Home Away From Home
Every year colleges have students around the world attend their institutions. Whether incoming freshmen or rising seniors, some students have to find a way to cope with being far away from home. Some people go to college right in their hometown, but others come from hours — or in some cases — days away.
For many people, they go to a college where it feels like home. The smell of the Georgia mountains, the pretty scenery and being located in a small southern town is the definition of Piedmont University. In some cases, it is a student's home away from home. Jennifer Ewald, from Germany, is one of these cases. She is a senior double major in English and pedagogy with aspirations to become a teacher.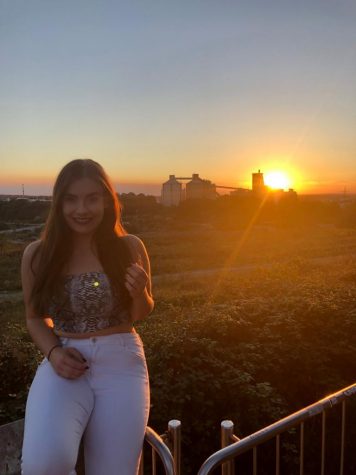 "A direct flight is 13 hours, but having a layover it can take up to three days depending on the flight ticket you get," said Ewald. "You also have to keep in mind that there's a six hour time difference between the United States and Germany."
Being that far away from home has its own challenges. For Ewald, it's the first time she has been away from home or in a different country without her parents.
"I don't get to talk to my parents often because of the time difference, so when I do get the chance, it's as if I have to catch up on the past couple of days that have happened," said Ewald.
However, through her college years, Ewald has found her niche within the Piedmont family.
"People here are so nice, and the hospitality made me feel so welcomed," says Ewald.  "Since the luggage weight for flying is only 50 pounds there was only so much I could take here to school, so people offered to give me lots of stuff I would need once I arrived on campus. Some of those things were pillows, blankets, a comforter for my bed and even a couch for my room. I was beyond grateful." 
Being so far away from home, Ewald isn't able to have a car on campus and has to rely on making friends to help her out when she is in need.
On the flipside, there are also students who come to Piedmont that are less than an hour down the road. NaNa Eadds is a freshman athletic training major from Toccoa, Georgia, roughly 20 minutes away from Piedmont. She came to the university simply for the fact of being close to home and being able to be close to her mom and siblings.
"I have five siblings and they're my everything,"  said Eadds. "I wouldn't know what to do if I couldn't go home every weekend to see them and my parents."
Since Eadds is near her hometown, access to a car is no problem as opposed to Ewald's circumstance. Eadds has grown up  in Northeast Georgia her entire life.
"For people who live far away from college, that takes a special kind of person," says Eadds. "You can't go home when you want, and I know everyone misses their parents — whether they want to admit it or not." 
The 2021-2022 freshmen class for Piedmont is the most diverse class the institution has ever seen. There are students from Cameroon, Germany, Honduras, India, Peru, Greece, Jamaica, Equatorial Guinea, as well as 25 different states. And they comprise the roughly 1,200 students that call Piedmont home.