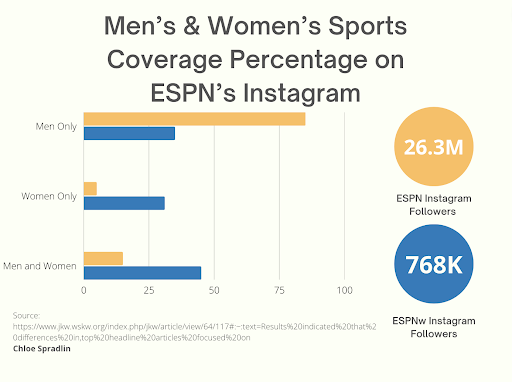 In 2023, we can all now do away with the idea of women's sports being second class. The kitchen and dishwasher jokes are burnt out and washed, but there's still one problem. 
With the demand for women's sports at an all-time high, why are there still problems for high-profile media and television stations airing or covering them? 
The numbers for marketing women's sports and women in sports are extremely low, despite over half of sports fans wanting to watch the content. The participants claim that they would engage in women's sports if it were more readily available on television and streaming. 
Personally, I am an avid women's soccer fan. It's the sport that I engage with and consume the most, even more than men's soccer. There is nothing I want more than to watch the top flight of women's soccer in England, the Women's Super League. As for many other United States-based soccer fans, that's also the case. English women's soccer is not available for streaming in North America, but best believe, every weekend on Peacock and USA Network, the English Premier League is streaming every single game. 
It's clear that the population wants the product, but there is also proof that there is a growing market for the product as well. Sticking with soccer, the National Women's Soccer League in the United States has had a dramatic increase in viewership in the last three years.  
When the NWSL is aired on CBS and not Paramount+, the numbers are clear that people want to watch. The 2021 NWSL Final garnered 525,000 viewers, which drastically defeated the MLS game with 123,000 viewers that same week. 
Another key issue with increasing viewership is the marketing that goes into women's sports. 
There is nowhere near enough money going into advertising women's sports, especially in comparison to their male counterparts. For the 2019 March Madness tournaments, the NCAA spent nearly double the amount of money on the men's tournament than the women's tournament.This was evident in the gear and equipment the women received, but also the marketing.  
Critics might say, "The men's tournament is more popular, and that's why they spend more on ads." That's ridiculous, because the opposite is the reality. The NCAA spends more money marketing the men's tournament, that's why it's more popular. 
All in all, this is about more than just numbers and statistics. This is about how the general public views women's sports. It's a charity.  
No one says, "Let's support men's sports!" No company funds men's sports because it makes them look better. No government has to make legislation to force organizations to treat men's sports equally. 
The real conversation begins when society simply starts calling women's sports, sports. 
Sources: 
https://www.shu.edu/news/poll-on-women-s-sports-show-us-more-we-ll-watch-more.html#:~:text=When%20polled%2C%2037%20percent%20of,percent%2C%20for%20men%2038%20percent.  
https://the18.com/en/soccer-entertainment/nwsl-tv-ratings-2022-challenge-cup-vs-mls  
https://statenews.com/article/2023/03/women-winning-in-front-of-no-one-students-say-female-ncaa-athletes-under-appreciated#:~:text=The%20NCAA%20spent%20%2428%20million,%2C%20promotions%2C%20games%20and%20more.