Studying Tips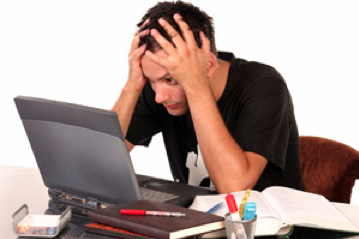 By COURTNEY BOGGS
Contributing Writer
If I were to ask you the true reason that you did not like to study, what would your answer be?
The number one excuse college students have for lack of studying is lack of time. The real reason is that studying is boring.
College is hard. You are expected to study and no one is going to force you to do it. Cramming is not an effective study habit. I've done some research and found some great tips to learn how to study.
1. Find the right study place. A place with a lot of distractions makes for a poor study area. If you try to study in your dorm room, you may find your computer, TV or roommate more interesting than the material you're learning. The library, study hall or coffee houses are good places to check out. Make sure to choose the quietest areas in these places, not the loud, central areas.
2. Take good notes and be involved. Use abbreviations in your notes if it helps increase the speed that you take notes. If you have any questions, make sure to ask your professor. It's better to be safe than sorry when it comes to information on an exam. It's also better to be an active learner rather than a passive learner.
Review your notes. If you can look at your notes every night the week before an exam, you will be able to remember better. While reviewing your notes, you should write notes beside them to help you remember certain points.
3. Use memory devices. Memory games, also known as mnemonic devices, are methods for remembering pieces of information using a simple association of common words.
Chunking is also a good memorization tool. This refers to recoding information into units. An example of chunking is phone numbers. You remember the nine digits by grouping the numbers in three digits, three digits, and four digits.
The Loci method is another device you can use. There are three easy steps to this method. First, visualize a place with which you are very familiar. Next, create a visual image of each term you have to remember. Finally, associate the terms one by one with the places in your imagery.
More popular examples of mnemonic devices include acrostics and rhyming.
4. Break up study hours. Studying for hours at a time with no breaks is not realistic or fun for most people. Studying for an hour, and then taking a five minute break and grabbing a snack is usually more bearable and enjoyable. Divide study time into segments that works for you.
5. Set deadlines for yourself and try to stay ahead of the game. Sometimes, you will have class assignments that just pop up. Instead of stressing out, start working on things ahead of time. Get rid of the procrastination in your life. Just remember, it's better to be ahead than behind.
My advice to you in the next few weeks is to try to find your best study habits. If you can form your study habits early, then you will be able to create a routine.
If you set aside a certain amount of time each night to study, then you will be able to remember the information better. If you have a test the next day, you will need to have a good night's rest.
The best advice I can give you is to not procrastinate. I hope this helps and wish you the best of luck.