Is Piedmont University as Diverse as They Claim?
I look around each of my classes and tell myself, "This doesn't add up."  
I always heard Piedmont was diverse, and the university had much pride in that. However, I sit in class and see the opposite. In one class, there are only two Hispanic students and one African American student. Other classes seem to have similar demographics.  
Piedmont Diversity Recruiter Gabriel Gutierrez said, "Diversity has definitely increased in terms of Hispanic population and African American population."  
Then why do classrooms have a lack of diversity?  
"You have to consider we have 100 [Hispanic] students out of a total of 1,200 students," Gutierrez said. "That's a big percentage where you won't see a big difference. Since I've been here, since 2014, I've seen the difference in diversity." 
Gutierrez was a student at Piedmont University in 2014 before he became the Diversity Recruiter in 2018, so he speaks from experience as a student and a staff member. Additionally, Gutierrez noted that students are spread across multiple majors, making it more likely for some classroom environments to seem less diverse.  
Although Piedmont annually hosts "Día de la Familia," an event for Hispanic families and their students to learn about the college process and Piedmont, there are no other events targeted towards minority recruitment. It would be nice if Piedmont planned more events that targeted other ethnic groups as well.  
Piedmont is diverse in many ways, but it can be even better. Laurel Smith-Doerr proposes advancing the Diversity, Equity, Inclusion or DEI within colleges to promote diversity within higher education. She suggests, "building their research and development for DEI is by looking into existing nationwide programs for related funding and guidance." As more students come into colleges, involvement in the DEI will help the campus focus on furthering diversity within the student body. At Piedmont, the DEI is relatively new, being established in 2020. Hopefully, over time, the council's impact will be felt. 
Diversity is a crucial factor in society; colleges need to mimic society for their students to prepare them for their careers. Piedmont has improved in its diversity, but we still have a long way to go.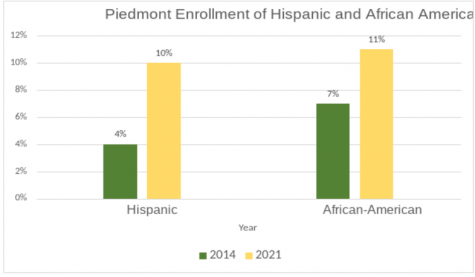 This graph shows just how much the diversity for both Hispanic students and African American students on campus has grown since 2014. GRAPHIC//NAHOMI SOLORZANO