PC Theatre presents 'Little Shop of Horrors' (a review)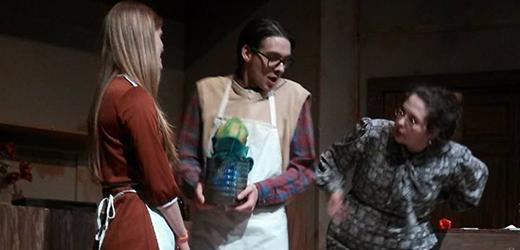 BY NJOKI COLEMAN, Contributing Writer
The set is demolished and costumes are back in storage, concluding the theatre department's 2013-2014 season. The Piedmont College Department of Theatre ended its mainstage season on a high note with the spring musical, "Little Shop of Horrors." The musical ran from April 10-13 in the Blackbox Theater located in the Swanson Center at Piedmont College.
"Little Shop of Horrors" was a box office success at Piedmont.  This production had sold-out performances throughout the four-day run of the production.
"Little Shop of Horrors" is a comedy rock musical about a florist named Seymour Krelborn, played by junior Jacob McKee.  Krelborn is a poor young man working at a run-down flower shop with the shop owner Mrs. Mushnik, who was played by senior Katie Robinson.
He discovers an mysterious alien plant after a total eclipse of the sun and brings it to the shop, caring for it and hoping it will grow and draw in business for the failing florist.He names the plant Audrey II after Audrey, played by freshman Jessica Williams, a fellow employee who is involved in a relationship with a psychotic dentist called Orin Scrivello, played by junior Tyler Dale. After bringing the plant to the store, he gains fame, fortune and love.
The only defect is that the plant feeds on human blood. It speaks to Seymour and forces him to kill people for its meals.Seymour kills Scrivello first, because of how violent he is and because he is abusive towards Audrey.Next, Audrey II eats Mushnik after Seymour tricks her into looking for receipts that he supposedly hid in the plant's enormous mouth.Finally, Audrey II eats its namesake. Seymour tries to save the original Audrey, but he arrives too late and she dies in his arms after asking to be fed to the plant upon her demise.
In his despair, Seymour finally tries to kill the plant, but with no success. He, too, is eaten by Audrey II, and the play concludes with a crew of gardeners taking leaf cuttings and selling baby Audrey IIs across America.
The play's trio was played by Kate Berardi, Nic Johnson, and Libby Scoggins. They embraced the role of being the Greek chorus throughout the musical. Audrey II was controlled by two puppeteers, senior Lilly Baxley and senior Kiki Thompson. Its speaking voice was provided by sophomore Ryan Robinson and its singing voice was provided by senior Ben Cisse. The remaining cast members formed the 12-member ensemble who worked together bringing to life the busy street of Skid Row.
Designed by guest director Kim Wheetley to pay homage to the "Little Shop Of Horrors" movie, each performance featured segments before each act with a director "filming" a movie on Skid Row. Before the first act began, audiences also saw a 1940s-style news segment about the eclipse mentioned in the play and a trailer for a fake movie called "Revenge Of The Geese."
The department will announce their plays for the 2014-2015 season towards the end of this month.
Editor's Note: Coleman is a theatre major and participated in the production.