Piedmont art seniors put heart into capstones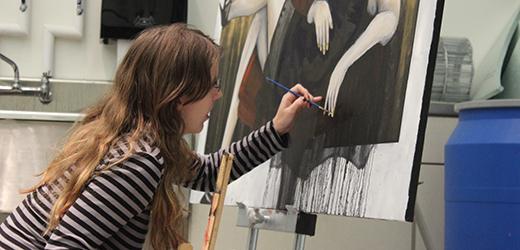 BY MEGAN STUDDARD, Editor-in-chief
The lights of the Smith-Williams Art Studio building illuminate the night as a trio of art students makes finishing touches to their senior capstone projects.
Senior art majors Laura Eavenson, Brandi Lee and Andrew Mitchell will soon have their own shows featuring art they have been preparing for more than a year.
In order to graduate, each art major must pass the senior capstone course, culminating in his or her own art show. The students are also required to prepare a defense of their work in front of the art faculty, in addition to preparing professional materials for their shows and for after graduation.
Lee said she has been working on her capstone, which will include multiple paintings depicting levels of "Dante's Inferno," since last summer. "This semester has the most workload, a lot of crying and Journey," she said.
When asked what students could expect from her show, Lee said, "naked people."
Mitchell, who transferred in last year, said he didn't have many ideas for his capstone until this year. He primarily works in 3D media, and will be showcasing sculptures he's created from cardboard and other materials.
"I don't think I've done a lot of crying yet," he laughed. "The best part has been using capstone as an excuse to act crazy."
Eavenson said her show will feature six large abstract paintings and a wall collage.
"I want [people who come to my show] to get that art is cool," said Eavenson.
Lee said the hardest part of capstone has been "not knowing the little details they don't tell you about – the business cards, the postcards, vinyls, binders, CVs, resumés, coming up with a name."
Lee said that since there are no graphic design or photography majors are graduating this semester, she and Mitchell had to step up when it came to creating the promotional materials for the shows.
Eavenson said it has been hard spending all of the hours in the studio while keeping up with other classwork, but enjoys getting to dive into her own ideas.
The three agreed that the creative freedom capstone allows is a good thing.
"It's not just another assignment, it's your work," Eavenson said. "That's scary and fun all at the same time."
Lee's show, "Abandon All Hope, Ye Who Enter Here," runs Apr. 14-18, with a reception Apr. 17.
Mitchell's show runs Apr. 21-25 with a reception on Apr. 24.
Eavenson's reception for  "This Dividing and Indifferent Blue," is Thursday, April 29, and her show runs Apr. 28-May 1.
All receptions will be held at 6 p.m. in the Mason-Scharfienstein Museum of Art.