Piedmont students experience the art and culture of Japan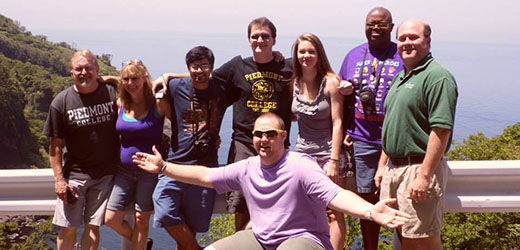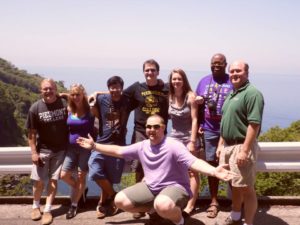 BY MANI ENO, Staff Writer
This summer, a group of Piedmont students had the opportunity to travel to Japan. The majority of the students were encouraged by their art professor Chris Kelly to travel to the island in late May for two weeks to learn and explore the history behind ceramics.
The students travelled to  Kanazawa and Echizen, two prominent cities known for their famous skills in ceramics:
"In Echizen, we got to fire their wool kiln," said junior art major Rose-Hannah Keith.
"I really enjoyed the art festival and seeing the different works of art."
"Ichi-go, ichi-e," meaning "one moment, one time" were the words senior early childhood education major Carl Davis learned to describe his experience in Japan.
"I had always wanted to go to another country and that did not become a possibility until I came to Piedmont," said Davis.
Junior graphic design major Alex Sridej expressed pure excitement as he stepped off the plane.
"I felt extremely excited because I came without any sort of expectations of the trip," said Sridej.
"I was able to truly experience it better than if I had any preconceived notion of what to expect."
It was not the first time out of the United States for senior art major Andrew Mitchell.
"I have siblings who used to live in Spain and Ireland that I would visit," said Mitchell.
"Japan is a ridiculously beautiful country; everything is scenic."
The students were not only enamored with the country, but with its cuisine as well.
"The food, though
possessing little flavor, was absolutely beautiful," said Sridej.
"Some things however did have great flavor, like Unagi [eel] and genuine sushi."
"They had restaurants like ours here in the United States like McDonald's and KFC, but the food had a Japanese twist to it," said Mitchell.
"We went to this small restaurant in Nara, Japan that deep fried everything," said Davis.
"I ate raw horse with this deep fried egg and got yolk all over my clothes. It was amazing."
The students had the chance to visit and meet famous ceramic artists and important people in the pottery business.
"The day we went to Echizen was my favorite because I enjoyed seeing the different works of art," said Keith.
"I was able to go around and meet the artists and get their autographs."
"We visited tons of
gardens, temples, museums and gathered the history of the country," said Mitchell.
"It really helped me learn appreciation for other
people's countries."
Another entry on the long list of experiences was when the students had the chance to meet an heir to a long family line of ceramics artists, Toshio Ohi.
"It was very impressive
seeing his visions and life," said Davis.
"I was honored to meet him."
"Not only were the
Japanese ceramics amazing, but the architecture of the buildings captivated me as well as the beauty of the country itself," said Sridej.
Davis put his learning of working with children to the test when he befriended the daughter of a local potter while in Echizen.
"I would ask her things in Japanese and she would tell me and I would say them back in English," Davis explained.
"To be able to connect with someone who barely understands English was amazing and enjoyable. It was the best experience in Japan."
Students who want to know more about the Maymester trip to Japan should contact Chris Kelly at [email protected]