An Era of Unconventionality
What age is too young to make the commitment of marriage? How old is too old? Is there still an expectation of getting married at all?
Formerly Rhylee Wittrock, now Rhylee Wilson, a senior environmental science major at Piedmont University, married her high school sweetheart, Furman Wilson, at the beginning of November; the wedding shortly followed her 20th birthday. The couple, who are approaching celebrating the fifth year in their relationship, have been managing a long-distance relationship for the better part of four years while Furman attended West Point in New York. Since his graduation, the distance apart has decreased by a substantial 12 hours, making the long distance, a manageable distance.
Originally from a small town in South Carolina, the two are obviously no strangers to long distance, so starting their marriage off in the same way, was only fitting. While the two would obviously prefer to share a home as they embark on this chapter of their lives, Furman's impending military post led to a minor acceleration in their plans.
"I truly believe we would have gotten married after I graduated college, but with him moving to Hawaii for the military, conditions made it important to get married before my graduation," Rhylee said.
Rhylee and Furman's marriage is, without a doubt, built on the love the two share, but the timing also takes into consideration certain financial benefits.
Furman's post is scheduled to begin in February, so the first half of their first year of married life together will be largely spent, apart. Rhylee is not set to follow him out until after graduation in May, but having Rhylee on Furman's orders allows for certain financial benefits, especially in their move. To say the least, it's not cheap to ship out your whole life across the ocean.
"We knew we would get married after I graduated anyways, but it was important for me to plan it with my mom and have my family around through the whole process," said Rhylee. "We weren't sure if after we moved he would be allowed enough time off to travel back home to South Carolina, and it was important to us for everyone to be able to make it."
Despite the progression of time cautioning against a young marriage, the two weren't deterred.
"We're absolute best friends; I can just be myself with him," Rhylee said of their decision to get married at a young age. "We work so well together; we're perfect."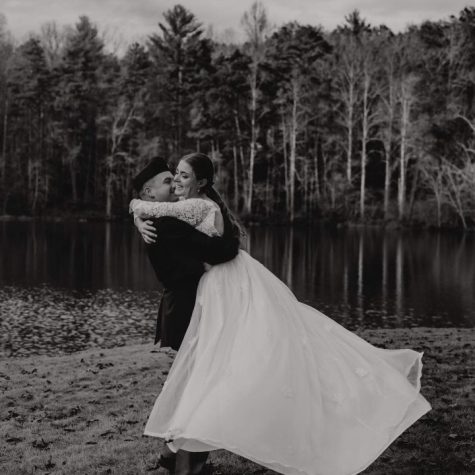 It seems that everyone has an opinion on the matter, yet somehow each of these opinions is the "right" opinion, deeming others' choices as wrong. If you get married too young, you're crazy because you have your whole life to settle down…right? And if you wait to get married, it's obviously just because you aren't able to find someone to settle down with you…right?
I have come to terms with my own prejudices I held against getting married young. For years I was a firm believer that I wouldn't even consider marriage until I was at least 25, yet when I entered my first relationship in college, I was surprised to find that maybe I was the type of person to get married young.
The fact of the matter is that everyone has a different preference, and no one's path in life is the "right" path. If you want to date a hundred people in a hundred different places and never settle down, that's your decision. Or maybe you hit the jackpot first try! Maybe you're just making good on a deal you made in 8th grade with your best friend. The judgment of others is not a reflection of whether you made a good or bad decision; it is a reflection of their own character and discontent in life.
As Gen-Z approaches adulthood, we should be thankful for the opportunities generations before us have fought to make possible in the realm of marriage. The choice of when to get married, the choice of who we get married to and the choice to get married when we know it's right. Getting married is a big life decision (because a divorce can be painful and expensive, not because it's wrong), and the only people who should have an opinion on the matter are yourself and your partner.