From a Scot to a Lion: Klaire Varney's Journey to Piedmont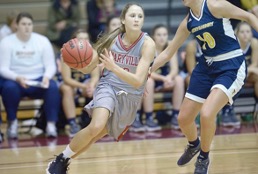 The COVID-19 pandemic devastated school systems by putting students' year on hold for the 2020 to 2021 year. Schooling began online, events were prohibited and most athletic seasons were postponed to the spring or cancelled entirely. However, the National Collegiate Athletic Association (NCAA) did not let the pandemic win and granted an extra year of eligibility to student athletes affected by the pandemic. For some seniors, they decided that their time in college had come to an end and were excited to pursue their dream job. For many others, lacing up their shoes for another season sounded pretty good.
"I think it was a wise decision by the NCAA staff to allow seniors to come back for a fifth year season, without that opportunity I wouldn't have a couple of my athletes on the roster this year," said Piedmont Women's Basketball Coach Jamie Purdy. "Every athlete on our roster is vital to our success, but having that upperclassman leadership is crucial for learning moments within our team."
Purdy explains how impactful it is on a team when seniors come back for their extra year of eligibility. These upperclassmen players add additional experience and guidance to their team. As well as added leadership, many seniors did not get a full season to say goodbye to a sport that they had grown up playing and trained so hard for.
Klaire Varney, a transfer from Maryville College, located in Maryville, Tennessee is among one of the athletes affected by the NCAA decision. During her senior year for the 2020-2021 season at Maryville, she averaged 15.6 points per game, 6.0 rebounds a game and shot 29.5% from the 3-point line per game. Varney wanted a change in atmosphere, the opportunity to play another year and to be coached by Piedmont's Coach Purdy.
"My first impression of Coach Purdy was when Maryville and Piedmont were playing each other, and I noticed the way that she motivated her players," said Varney. "She has a purpose in what she says, and it makes you want to push harder than you already are. She sees what her players are capable of and strives to bring out the best in them."
Varney understands the need to be motivated on the court and how vital it is for coaches to convey that motivation, which is why she is excited to be a part of the culture that Purdy has created at Piedmont, especially as a transfer student.
Piedmont University and Maryville College both compete in the USA South conference. As two powerhouse schools, there are often strong rivalries between the players. When it comes to transferring from a rival school, Varney understands the challenges.
"I wanted to come to Piedmont not only to further my studies in neuroscience, but I wanted to be a part of a winning culture with coaches who care about me as a person and player," Varney said. "I'm excited for this season because we have a very talented group of girls on the team. If we all put our heads together and come out on top, not only could we win a divisional ring, but we could make it to the NCAA tournament."
The 2021-2022 Women's Basketball season will begin the first week of November. To keep updated with the Lady Lions basketball team and any other Piedmont sports, visit www.piedmontlions.com.