Fieldhouse Media discusses responsible social media use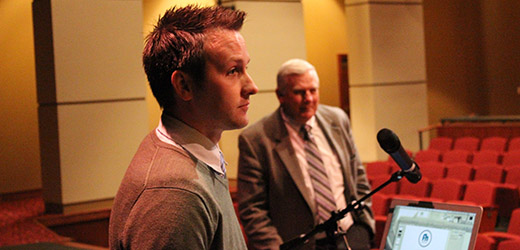 By JESSICA FINLEY
Staff Writer
Thursday afternoon in the Mainstage Theater, founder of Fieldhouse Media Kevin DeShazo spoke to students about the impact social media can have on student athletes. He also informed students of ways that social media can benefit them now and in future career opportunities.
Social media platforms such as Facebook, Twitter, Instagram and many others have become more common as technology grows.  According to Fieldhouse Media, 93% of student athletes have Facebook accounts and 99% post daily. 72% of student athletes have a Twitter account – this is up from just 30%  last year. Of those with a Twitter account, 94% are tweeting daily, and 27% of those tweets are inappropriate.
"You have a right to free speech and you also have a right to the consequences that follow," said DeShazo.
Posting inappropriate things can greatly affect student athletes as well as the organizations they represent, and the consequences can be even greater.
 Many student athletes have been suspended for inappropriate posts. Some have even been removed from the sport or university permanently, according to DeShazo.
 "You are a brand, and everything you post online, affects your brand," said DeShazo.
The information you post can also affect future employment opportunities. DeShazo said 62% of employers have decided not to hire someone,because of things they have posted online.
"So how do you keep from damaging your brand? Think long term, and ask yourself, would you want your mom to read that post? Be positive, and always add value to your brand," said DeShazo.
The event was sponsored by the Student Athletic Advisory Committee (SAAC). 
According to Athletic Director John Dzik, Piedmont does not have any current social media rules, other than the student athlete code of conduct. 
Liz Butikofer, senior women's administrator for the athletic department said, "I think the students will think twice before they tweet or post something online, and there is a possibility of the rules regarding social media changing in the fall. Also, I think the rules should be implemented for all students not only athletes."
Sophomore nursing major and softball player Madison Eubanks said, "I think it is crazy how much trouble athletes can get into for posting things. I don't have a Twitter account, and I think I am deleting my Facebook account."
"Our goal is not to stop students from using social media, but to change the way they use it,"  said DeShazo.   
"We want them to look at social media as a tool rather than a toy."