Education Internships
Though the new, COVID-precautionary models of education internships may look a bit different than in prior years, they are still giving students unique on-the-job experience.
"At the School of Education, we were already preparing for our graduate courses to go online so most of our faculty had some training on online learning," said Land. "This was beneficial; however, the magnitude and swiftness of the change was still stressful. The most significant challenge we faced was handling the internship requirements."
In order to become certified as teachers, each education major is required to complete a minimum of two formal internships–one of which is usually a student-teaching position. Due to the digital or hybrid format instituted by many schools, many of these internships were different than they would've been in a pandemic-free year. However, this did not necessarily put students at a disadvantage.
"Some students were able to continue to work with their host teacher and teach lessons using an online format," said Land. "We had several principals share that often our students were able to take the lead with online learning and provide guidance for classroom teachers. At that point, many classroom teachers had never taken an online course or used online conferencing tools. Piedmont students were able to help these teachers make the transition to online learning."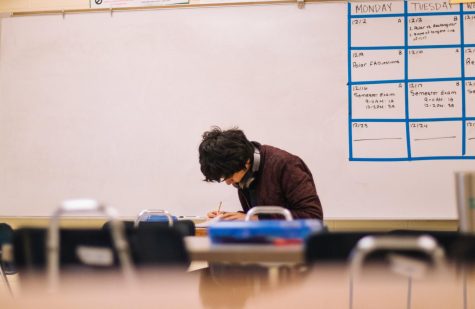 Though the young future educators may not have the same level of in-the-classroom experience as their mentors, they had experience with digital learning from the perspective of students, and an understanding of different academic technologies.
"For those students who found themselves without a placement, we had to make some quick and significant changes to our clinical program," said Land. "We used this as an opportunity to add training from Sanford Inspire into our Canvas shells. Students could add this training to their resume or professional portfolio. We also added a module on FERPA training and confidentiality in an online learning environment. These were very relevant topics and something that school administrators found highly valuable."
Overall, the education department went to great lengths to ensure that each student got the experiential learning necessary to graduate prepared to take the next step towards the classroom. Piedmont worked with over 40 different school systems to create different internship models for in-person, online, and hybrid learning situations.
"I believe that the changes we were able to put in place provided students with rich learning opportunities," said Land. "I know that many students have felt frustrated. I understand that the level of flexibility we have had to endure is stressful for those who like structure and consistency. However, teaching is a profession where changes can happen quickly, and teachers have always been tasked with providing social, emotional, and physical support for their support for their students."
Despite the new challenges, many education majors were able to get an up-close look at what it means to be a teacher, and may have also gotten an early chance to leave their mark in classrooms across Georgia.
"Teaching is definitely much more than simply providing instruction," said Land. "These interns have really gotten to see the depth of what educators are asked to do. These interns experienced teaching under pretty harsh circumstances and they were able to create positive learning environments. They will be the most prepared teachers we have produced."