Leading Lion: Men's Lacrosse
Ryan Price 
Sophomore, biology major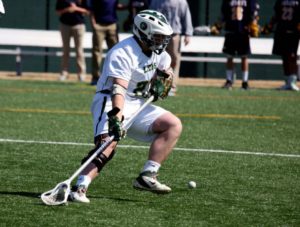 High School: Savannah Christian Preparatory School
Position: Defender
Hometown:  Savannah, Ga.
Experience: 4 years
What are your pregame rituals and superstitions?
I put eye black on then say a quick prayer by myself. I have a few superstitions: I have to sit in the same spot in the locker room for home games and same seat on the bus for away. I also have to drink at least a gallon of water before the game
What are your plans after graduation?
I plan on applying to medical school and becoming an orthopedic surgeon.
What is the best part of being a member of the team?
Knowing that I was one of the original players that started the program, and all the guys that are on the team are great guys to be around.
What is your greatest personal achievement?
Playing defense in college after only playing for 2 years in high school.
Last season, Price played in 11 games. He had six shots, two of which were shots on goal. His shot on goal percentage was .333%. He also had 23 ground balls.