Golf Swings Into Season
By Jamie Doublet
Contributing Writer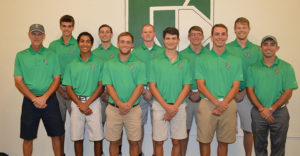 2014 – 2015 Men's Golf Team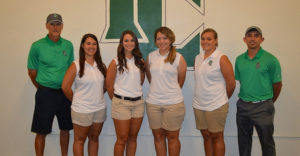 2014 – 2015 Women's Golf Team
As Piedmont's fall semester becomes underway, both the college's men's and women's golf teams are gearing
up for an unforgettable season. The four tournaments that both teams will compete in this fall season will begin
with the women's team away at Huntingdon College and the men's team hosting the ninth annual Piedmont
College Fall Invitational. Piedmont's invitational will have the lions competing against Truett-McConnell
College, Bob Jones University and Covenant College. In the past the men's and women's teams have had much
success and are predicted to do well again this season.
Head Golf Coach Michael McMunn also recently announced that Parker Rowland has joined the team as
the Associate Head Coach. Rowland, who looks forward to building on the success of Piedmont Athletics and the
tradition of excellence set by those before him, has had experience in both high school and collegiate golf in
Georgia. To round out his repertoire, Rowland has experience as a professional player who was involved with the
PGA Champions Tour and the Georgia PGA.
"The coaching staff is looking to lead us into victory by helping us get better and by getting our heads in the
right mind set to go out and post some low numbers to beat our rival teams," said Joseph Morris, third-year team
member.
Great things are expected of this year's incoming freshmen, who come from as close as Duluth, Georgia and as
far away as Michigan.
"I love the freshmen," Morris continued. "They are great guys and they came in ready to work hard and get
better. They aren't experienced yet but they will play a big role in the future."
Some might think that a challenge the team will face going into the season will be the new players' lack of
experience, but with returning members and fresh talent melding together with a revamped professional coaching
staff, the team is looking forward to success this year.
Piedmont's ninth annual fall invitational, which falls on Sept. 8 and 9, will be at the Orchard Golf &
Country Club of Clarkesville. Piedmont College has a great amount to look forward to with this year's invitational.
"I hope we have people come out to support us and make it a fun tournament. What would make my day
would be for students and fans to paint up and make golf a fun and interesting sport," said Morris.
Piedmont students can also catch the lions at home in three of four upcoming tournaments this fall. The
Lions will also compete in the Tom Kinder Memorial in Harrisonburg, VA., on Sept. 13 and 14 and the Royal
Lakes/Oglethorpe Fall invitational in Flowery Branch on Oct. 6 and 7. Both Piedmont's men's and women's
teams will travel to the Chick-Fil-A Collegiate tournament hosted at Berry College on Oct. 20 and 21. The women
will compete at Stonebridge Golf Club for the fifth time. The men's team will compete in the tournament for the
fourth time.