PC sports triumph in USA South tournament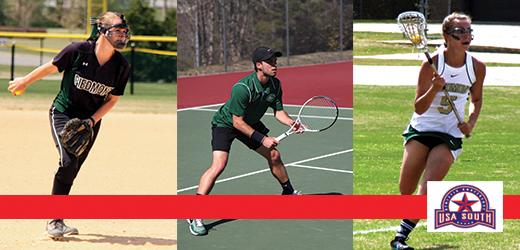 BY ALEXANDRA SMITH, Sports Editor
Several teams made an impact at the USA South Conference Tournament this past weekend in Rocky Mount, NC.
The softball team defeated Huntingdon College to clench the conference title after earning the regular season title just a week prior.
The Lady Lions were down 4-2 in the bottom of the seventh when Sarah Walker scored after a pitcher's error on a hit by Laura Carter, putting the Lady Lions down only 4-3. Abby Smith reached for a hit which allowed Carter to score.
Then, the Huntingdon pitcher overthrew the ball, and Olivia Duncan was able to run in to win the game 5-4.
The women's lacrosse team lost in the championship game to Meredith College after a double overtime technicality. The Lady Lions scored in the final seconds of the second overtime to tie the game at 15; however, the officials disallowed the goal due to a failed stick check.
The clocked ended with Piedmont losing 15-14.
Piedmont's men's tennis team beat LaGrange in the first round of the tournament 9-0. They later fell to N.C. Wesleyan 0-9.
The Lady Lions tennis team fell in the first round of the tournament to Huntingdon College 1-8.