Compass program's first year leads to a greater involvement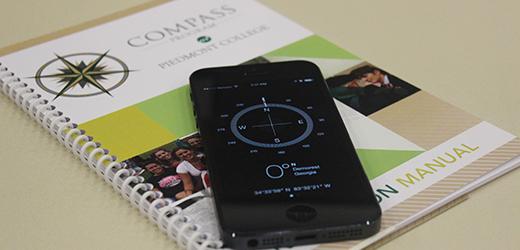 BY MEGAN STUDDARD, Editor-in-Chief
Freshmen volleyball teammates Amanda Trotter and Heather LaPrade are busy planning a camp for future Piedmont players. As they send emails, design flyers and manage player records, they'll be one step closer to graduation.
Trotter and LaPrade are among many freshmen who have already started projects for the Compass Program, a graduation requirement for freshman implemented this academic year.
According to Chaplain Ashley Cleere, the idea for the program "came to Dr. Mellichamp in a dream," and has since developed into a new way for students to engage themselves at Piedmont and in the community.
Last academic year, a committee of ten faculty and staff members was formed and the program was presented to the faculty and trustees incrementally.  Cleere said the program was approved last academic year.
Current freshmen must complete three Experiential Learning Experiences (ELEs) that reflect the program's six "Compass Points" – vocation, service-learning, creativity and innovation, social ethics, cultural awareness and leadership.
For activities to count as ELEs,  students must submit a proposal to the Compass committee before completing the project, as well as complete other paperwork and reflections about the project.  Students' advisors are supposed to work with them on the proposals.
Cleere said the proposal is a key component of the program, and fosters goal-setting. "It's important to fill out [paperwork] before [beginning a project]," Cleere said. "We're hoping students will get into the habit of setting goals for all kinds of things that they do."
Trotter wrote in an electronic message that the proposal process was difficult. "Receiving approval of my compass program proposal was the tricky part," Trotter wrote.  "I had to revise my proposal three times to make sure it was up to the committee's standards."
Stephanie Bogart, administrative assistant for co-curricular programs, makes sure the process runs smoothly. "I'm here to help students if they have questions with Compass," Bogart said. "I'm also here to track the proposals and make sure they go to the committee."
Although neither Bogart nor Cleere had an exact number of proposals submitted, and approved Cleere said, "we have several that have been approved or are about to be approved."
"I come in every morning and there's  a new proposal," Cleere said. "If you came back in a week, there'd probably be 20 more. When the program's in full swing, we'll have 700 or 800 projects being worked on at a time."
Bogart mentioned that many students are working on service projects related to the humane society.
All students who complete the Compass program will have a special section on their transcripts describing the projects, a quality that Cleere said will set them apart from other job or graduate school applicants, and provide conversation starters for interviews. "[The Compass Program]'s a requirement, but it's also an opportunity," said Cleere.
Although the program is required for freshman, upperclassmen are urged to participate.
"The upperclassmen have some advantages because they're further along, and they also have more relationships with faculty and staff because they've been here longer," Cleere said.
According to Cleere, the Compass program allows students to have more interaction with faculty and staff, as well as develop a presence in the community.
"We always see our student's education as benefitting more than themselves," Cleere said. "This will be a chance to cultivate relationships, both on campus and off."
Cleere also said that the program allows students to interact with their professors and other Piedmont staff in different ways.
"We have faculty who have interests outside the classroom, in areas other than what they teach," said Cleere.  "Dr. Davis teaches a film class but he doesn't have the chance to make a film with students – there's not time in the syllabus. John Speigel likes to take his students scuba diving. Linda Arnold has organized the Patriots of Piedmont for a number of years."
When asked about the progress of the program, Cleere said, "I continue to be surprised. As with any big venture, there are benefits that we weren't anticipating. Students are learning."