Uncovering the mystery of Piedmont College's board of trustees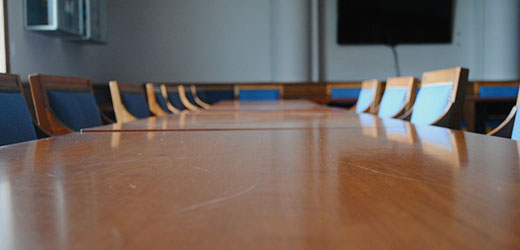 BY MEGAN STUDDARD, Editor-in-Chief
Piedmont College, like most private institutions, is under the direction and control of the board of trustees. ­­This 40-member body, mostly made up of local citizens, governs the college and makes decisions that affect students, faculty and the surrounding community. Members on the current board include businessmen and women, Congregationalist ministers, lawyers and even a veterinarian.
Although Piedmont's Board of Trustees essentially owns the college, many students and faculty members are in the dark about how the board governs the institution. There is no documentation about how the board specifically operates in the college's catalog or student handbook.  While Piedmont is a member of several organizations for private colleges and universities, including the Georgia Foundation for Independent Colleges and the Council of Independent Colleges, neither  of these groups provides guidelines or rules about their members' governing bodies. Additionally, students and faculty cannot attend the board's meetings since they are all closed, and their minutes are not made public.  To uncover the mystery behind the Board of Trustees, I sought  answers from top college administrators, the board's chairman and several members of the board of trustees.
The board of trustees, as a whole, meets twice a year, in October and April, and is comprised of many minor committees that meet throughout the year. These committees include: academic affairs, athletics, audit, building and grounds, church relations, development, nomination, investment, planning, student affairs and executive.
At their two meetings, the board hears reports and recommendations from each committee and votes on action items. Each member gets an individual vote.
Before anyone can serve on the Board of Trustees, he or she must be nominated by a current board member. The nominations committee is in charge of the nominations process, and when there is a vacancy on the board, this committee seeks out and proposes new members. The board may also consult the college president for nominations. Two board members are required to be from Congregationalist churches. Board members serve on a volunteer basis, and, according to President James Mellichamp, they can serve on the board as long as they are active and attending meetings.
Gus Arrendale: The man behind the curtain
His pearly white sneakers, neatly tied with neon green shoelaces, look oddly paired with a suit. He speaks with a distinct Southern drawl, backing up the accent with gentlemanly politeness. He casually reclines in a plush, mint-green office chair, the eyes of a dozen cartoon chickens staring at him from the conference room walls.
Thomas "Gus" Arrendale III is chairman of the Piedmont College Board of Trustees. Often only spotted at commencement and other major college events, Arrendale spends his day job as CEO of Fieldale Farms, one of the world's largest independent poultry producers, according to their website. The Arrendale family, originally from Tiger, has a long history in the poultry business and founded Fieldale Farms in 1972.
Fieldale Farms' headquarters are tucked away in Baldwin, less than ten minutes from campus. The entire building is covered in mirrors, and the scent of chicken manure fills the air. Visitors are greeted by large, silver sculptures of chickens, one of which is dedicated to Arrendale's father for his fifty years of service in the business. This is where you'll find Arrendale dealing with poultry and Piedmont College.
In 1997, Arrendale was nominated to the board by former college president Ray Cleere, who retired in 2011. According to Arrendale, Cleere wanted more local faces on the board. It wasn't until his family pushed him that Arrendale decided to take the position in 1998. "Under the encouragement of my father, I joined the board of trustees, and I just really fell in love with it," he said.
Arrendale's father, Thomas Arrendale Jr., was no stranger to Piedmont. He died in November 2003 at age 83, but became a popular name around the community and at the college. According to his obituary from AccessNorthGeorgia.com, he strongly supported the college and received an honorary doctorate in 1998. Several buildings on campus reflect his contributions; both the college's amphitheater and library are named after the Arrendale family.
Gus Arrendale has served as chairman since 2002. He said that his position at Fieldale Farms helps him in his role as chairman at Piedmont. "Piedmont is a business," said Arrendale. "I feel like I've taken some of the skills that I learned being in the poultry business and …good, common-sense business practices, and have applied them to Piedmont."
As chairman, Arrendale is responsible for coordinating meetings and serving as a voice for the trustees. He works with the administration to implement what the board wants done.
"The board of trustees runs the school," said Arrendale.  "They've got to be vocal; they've got to be strong. They have to voice their opinion. I am just their voice. I have no more say-so in a decision. I'm just one vote."
According to Arrendale, as long as he has been on the board, there has been no dissention in voting. "It's been unanimous throughout the whole process while I have been here," he said. "I'm real proud of that."
Arrendale noted that the board has a specific mission for the college, and it involves the community. "The board's vision of Piedmont right now is to put out the best educated, well-rounded students that we can put out and integrate that with our community," he said. "Piedmont and the community are very much intertwined, and we want to cater to the community – this county and the surrounding counties. That's our bread and butter, people from Georgia."
Student representation
Unlike some other private institutions, Piedmont does not have a current student liaison serving on the board. However, both Mellichamp and Arrendale noted that several alumni members who are familiar with the college are board members. According to Mellichamp, the president of Piedmont's alumni association always sits on the board. The alumni association also chooses another one of its members to nominate as a trustee.
"Typically those are fairly recent graduates," said Mellichamp. Board member Brian Rickman is the most recent graduate who serves on the board, and he graduated from Piedmont in 1998. Rickman is the district attorney for the Mountain Judicial Circuit, and said that he uses his expertise in law to advise the board when necessary. Rickman also serves as a part-time professor at Piedmont, teaching a few criminal justice classes. He said that this brings him closer to students and allows him to understand their needs. "I get to have contact with students on a regular basis," he said. "That's been really valuable to me. Students will talk about issues and can always approach me."
Mellichamp pointed out that specific committees, such at the Student Affairs Committee, regularly meet with current students. According to Arrendale,  former Dean of Students Drew Davis was also present at every trustee meeting to provide perspective from the students. "Y'all [the students] are represented very well," said Arrendale.
Mellichamp said that the best way for students to voice their opinions to the board is through student media. Every issue of "The Navigator" is posted to the trustee's new, secure website, where members can download and read a copy. "The student newspaper really functions as the best liaison on behalf of the student body here to the board of trustees," said Mellichamp. Arrendale also noted that the newspaper is discussed at every board meeting.
Arrendale assured students that they are first priority to the trustees. "I can promise you this: the number one topic on every subject in any trustee meeting is the students because we are educating students," he said.
The President's role
The board of trustees has to work closely with the college's president. Mellichamp has served as president since 2012, and has been involved with the board of trustees as an administrator at the college for the past 15 years.
Tasked with handling the day-to-day operations of the institution, the president serves an integral role on the board: to keep the trustees informed about what's happening on campus. "I update them regularly on things that I think are important for them to know," said Mellichamp. "Usually it's good things, but I occasionally have to let them know about bad things, such as a year ago when our men's basketball season was cancelled."
Mellichamp said another part of his job is to stay in touch with each trustee member. He said that he meets monthly with Arrendale to discuss the budget and other important details about the college. He also makes an effort to reach out to the other trustees. "Periodically I mail them personal notes, try to visit them or even have them on campus. Sometimes I invite them to have lunch in the dining hall," he said. "I try to stay involved with them the best that I can."
Big decisions: Hollingsworth and alcohol
The Board of Trustees is involved in making some of the biggest decisions at the college. In recent years, these have included the mysterious dismissal of Danny Hollingsworth as college president in 2011 and last year's abrupt change in alcohol protocol.
In 2011, students found out via email that the Board of Trustees dismissed Hollingsworth. There was not a clear reason given for the personnel decision. Arrendale explained that Hollingsworth, who now serves as a head of the accounting department at the University of Tenneesee at Chattanooga, did not fit at Piedmont. "He did not fit our culture and I don't think that the students, in the long run, would have been happy with his vision about what Piedmont wants to be," said Arrendale.
In an unrelated interview, board member Thomas Hensley made an unsolicited comment about Hollingsworth. When asked about how well Piedmont is involved with the local community, he said "I think very well, much more so now than when Dr. Hollingsworth was the president."
In the fall of 2012, the board of trustees changed the way Piedmont deals with underage drinking on campus. They decided to give officers more discretion when punishing underage drinkers. Students would not be immediately arrested for drinking underage but would have the option to spend a night in the on-campus holding cell. However, after a complete year of enforcing the discretionary policy, Piedmont reverted back to immediate arrest for on-campus underage drinkers.
Arrendale had no comment about the changes in alcohol policy.
Show me the money
Another responsibility of the board of trustees is handling Piedmont's finances.
Part of this includes making decisions about the college's investments. According to Mellichamp, the college has $60 million in investments or endowments, and the money earned on these investments goes toward funding scholarships, including Piedmont's named and alumni scholarships. "The board has allowed us to draw down a fixed amount every year," he said. "I think it's five percent of whatever the endowment earns."
He said that professional money managers are in charge of managing these investments, but the board is ultimately responsible for them. "[It's] a very important job [for the board]…, making sure they are doing a good job of investing endowments so that we can have the most to give out for scholarships," said Mellichamp.
The board of trustees also drafts and approves the college's budget and makes sure the institution's finances are in order. Board member Thomas Hensley is chair of the audit committee and serves on the finance committee. A former CPA, Hensley is now president of Fieldale Farm and was nominated to the board by Arrendale. His background in accounting allows him to serve on these committees. "I'm very familiar with accounting, finance, profit and loss, equity, and business security," he said.
According to Hensley, the audit committee's job is to make sure the college's finances are in check, and Piedmont employs a third party to double check the numbers. "Within the board, there are three of us that have volunteered to hire an independent CPA firm named Capin Crouse in Atlanta and they specialize in auditing universities," he said. "They come and audit our financial statements to show that the numbers management presents to the board of trustees are accurate and that internal controls are such that asset of the college can't be misappropriated."
Tuition
Speaking of finances, probably the most important decision that the Board of Trustees makes for students is the cost of tuition.
Since 2010, there have been two increases in the cost of tuition. According to a December 2012 article in "The Navigator," tuition was increased by four percent in the 2012-2013 academic year.
Arrendale said that when deciding on tuition costs, the board looks at enrollment and expense projections, as well as the budget needs for up to ten years in advance. They also analyze a document that compares Piedmont's tuition with its peer institutions. The list includes 29 private, liberal arts colleges in Georgia, Alabama, Tennessee, South Carolina and North Carolina that are similar to Piedmont. Colleges on the list include Emmanuel College, Berry College, Agnes Scott College and Mercer University. "We look at this [list] about twice a year," Arrendale said.  "We compare ourselves and look at what kind of education we're going to give our students compared to our peer group."
Arrendale claimed, in his 15 years on the board, that Piedmont has remained in the lower third of pricing for tuition compared to other, comparable colleges, making Piedmont a value for students. "Every time we have done a tuition increase, even with that increase, we are still in the lower third," he said.
According to Arrendale, the board spends a lot of time deliberating about tuition. "It is not taken lightly at all," he said.  "It is gone over with a fine tooth comb every time that we change it."
Arrendale said that the board simply strives to provide the best education for students at a price that they can afford. "We're giving the best education right now that Piedmont I think has ever given in the past 23-30 years," he said. "You get a good value at Piedmont."
Who makes up the Board of Trustees?
Arrendale claimed that there is variety in race, gender and religious preference on the board. According to the National Center for Education Statistics (NCES), Piedmont's enrollment in 2012 was 80 percent white, 10 percent African American, and 5 percent other races. Out of the 40-member board, Arrendale said that there is currently one African American board member. The majority of the board is white males.
Identifying religious background is a little more difficult. Two members on the board are from Congregationalist churches, reflecting the college's affiliation with the denomination. However, there is one other religion represented on the board.  Arrendale said that one board member is Jewish.
The NCES reports that 63 percent of Piedmont's enrollment from 2012 was female. On the board of trustees, women account for 20 percent of the board. There are eight female members.
There's an even greater variety in occupation among the board members. The trustees' backgrounds range from law to banking.
"It's a wonderful mix of people who are familiar with the college because they were students here or people who are very successful in their professional careers," said Mellichamp.
Piedmont's connection to the local community is evident in its trustees. "Piedmont makes a more aware and better community because… [of the] interaction of the citizens of the community…who serve on the board of trustees," said Arrendale.
Eleven members are specifically from Habersham County, while ten others hail from close by communities, including Tiger, Gainesville, Toccoa, Danielsville and Athens. Several others are from the Atlanta area. While the majority of the trustees are Georgians, there are three representing other states, including Alabama, Wisconsin and California.
What's the vision for Piedmont College?
Hensley, Rickman and Arrendale all shared a common vision for Piedmont: growth.
With a new student center in the works, it is evident that Piedmont is expanding physically. However, Arrendale wants to see growth on an academic level as well.
Part of the board's job is to approve new academic programs, including adding new majors. "We need to expand our majors, get more students and better facilities, and make sure that we have top-quality teachers for our students," he said.
According to Hensley, Piedmont should have no problem paying for this growth.
"We're financially very strong and I expect that to improve over the next ten years," he said.  "The future is bright for Piedmont College."