Athens has an app for that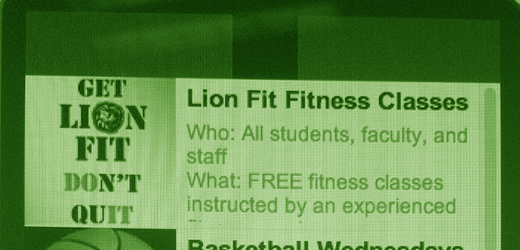 BY MAHEEN RAE, Staff Writer
Communication between the student activities office and the students of Piedmont has been a work in progress on the Athens campus. Students have complained that they are not notified of school activities or events until after they have occurred. Therefore Student Activities Director, Zach Churchill has prepared an "app" to better the lines of communication.
"The Athens-Student Activities App is an informational application that provides students with the most up-to-date information possible regarding student activities and events as well as important information regarding the school. There is a calendar of events, links to our Facebook, Twitter and YouTube accounts, as well as an outline of each student organization complete with a schedule of upcoming events for each club," said Churchill.
"Unfortunately, the app is not available in the Apple or Android stores.
The only way to download the app is to follow the following link http://myapp.is/PiedmontAthensActivities.
After going to this link on your smartphone or tablet you will be prompted to save the link to your home screen. Upon doing so, the app looks and acts just like any other app on your phone."
This app is a perfect way for students to receive Piedmont news conveniently on their phone. The app has sub screen categorizes such as announcements, a calendar of upcoming activities, clubs, and a link to the Facebook and Twitter page for student activities.
It also has a contact option available which allows students to see a map of the school location and its surrounding streets. other features include the option to call, email, or visit the school website with just a click of a button. All feedback is encouraged from students and they are able to leave their feedback directly on the app as well.
The Athens community can stay close and connected with this app. Piedmont is making efforts to assist students in having an easier semester. The app is purposed to create another method of communication available for students.
Churchill and every member of the Athens Campus Activities Board (ACAB) are working hard to provide events and activities for Piedmont students.
They are doing all they can to communicate with students and provide the opportunity for them to enjoy the student life at Piedmont. Any suggestions or feedback would be appreciated.