Leading Lion: Men's Soccer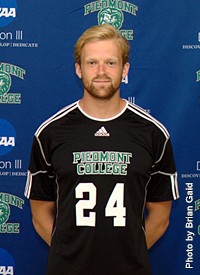 Cameron Parsons
Senior, business with a concentration in finance major
High School: Mill Creek High School
Hometown: Dacula. Ga.
Experience: I've been playing for sixteen years.
Why did you choose PC?
I chose PC to play soccer, all the while getting my education at a close knit college.
What is your greatest personal achievement? 
Becoming friends with Stephen sherfy, Justin Whitaker, and Connor Lockridge.
What are your plans after graduating Piedmont?
I'm looking to go into investment banking after Piedmont.
What are your pregame rituals?
I'm not really superstitious about soccer so nothing regarding superstitions, but our main pre-game ritual is usually listening to Tomorrowland 2012.
Parsons has appeared in 15 games this season for 652 minutes this season. He has recorded two shots. He was a USA South Academic All-Conference selection last season.