Men's Basketball team is ready to surprise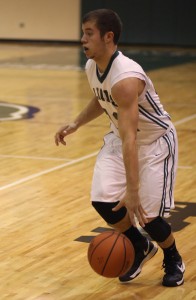 By: Jesse Sutton
Two weeks into practice, Greg Neely begins his first full season as the men basketball team's head coach working to create a season of firsts.
A season that he hopes can bring the Lions to their first ever conference championship, despite the hurdles crossed during the 2012-2013 season.
By the end of last season, the men's basketball team shrunk to only seven players following a series of suspensions and injuries. However, Neely recruited 18 players to add to Piedmont's six returners, combining for a stacked 24-man team.
"The new guys saw an opportunity," Neely said. "Men's basketball has never won a conference championship here, so I think the opportunity to be the first to do something, the opportunity to have the chance to compete and contribute right away… was a positive force in recruiting."
"We are a lot deeper," said Chris Meeks, a junior psychology major. "We have a lot more people that can step up and contribute right off the bat."
Neely said the team's six returners, including lone senior Aaron Thrams, are essential in growing this basketball team both on and off the court.
"I can't imagine another team on our schedule that has gone through more adverse situations than this group of returners," Neely said. "They've worked hard. They are holding guys accountable to make sure we are on time and engaged in what we are doing. They've really been our coaching staff's second voice. I've been extremely pleased with the returners so far."
On Oct. 16, the Lions were picked to finish this season 11th of 11 teams in the USA South Athletic Conference's Preseason Coaches' Poll. The Poll consists of votes from all 11 coaches in the league, and Maryville College was chosen to conquer the conference despite finishing seventh last season.
However, Neely and the basketball team view this as a challenge as opposed to an early defeat.
"We were picked last in the preseason polls. We really excited about that," Neely said. "You don't have opportunities in life like this a lot… It's not very often that you get picked dead last and then have an opportunity [to] do something special. I don't know how many wins and losses we are going to have, but I think our expectations are that we are going to be playing our best at the end of the year… in the conference tournament."
"I think we can accomplish a lot and surprise people," said Chase England, a freshman nursing major. "I think a lot of people are underestimating what we do have. Hopefully we can make a deep run in the conference tournament."
The Lions start their season with an exhibition game against Division I Kennesaw State University in Kennesaw, Ga on Nov. 4. On Nov. 19, the team will play their first home game of the season against Toccoa Falls College at 8 p.m. in the Johnny Mize Athletic Center.