Piedmont's own hall of famer
BY FLETCHER DEAL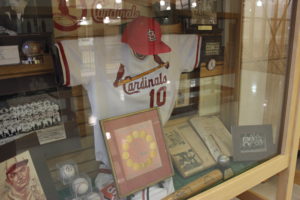 Johnny Mize, one of the few athletes at Piedmont to later play professionally, began his baseball career at the Demorest Elementary School. 
When he was in the fifth grade, Mize played with the seventh grade team. 
Coach Harry Bible Forester recognized Mize's talent upon seeing Mize working as batboy at age 15 and offered him a spot on Piedmont's team.
 The coach put him in the outfield but soon moved him to first base. He played for Piedmont for three years while still in high school.  
After those three years, he joined the St. Louis Cardinals as a professional baseball player. 
In 1981, he was inducted into the Baseball Hall of Fame. At his induction ceremony, he paid a special tribute to Coach Forester who had spotted his talent. 
According to a 1981 Atlanta Constitution article, Mize said, "My three years of playing college baseball as a profession while in high school are probably my most unusual record." 
In 1989, a monument base wasunveiled memorializing Mize's career in Demorest City Park. 
It states, "John Robert Mize, 'The Big Cat'. Born and raised in Demorest, Mr. Mize was a keen-eyed slugger who smashed 359 home runs and batted .312 in a 15-year-career while topping .300 mark nine seasons in a row. Set major loop records by hitting homers in a game six times and trio in succession of four occasions. Won N.L. batting title once. Led or shred lead in homers and slugging pct. four times, runs batted in and total bases thrice. Finished first, second or third in offense 54 times during his career – 1936-53. Led League in putouts, twice and assists, twice with fielding pct. of .996."
At the base of the monument, Boy Scout troop 660 placed a plaque that reads, "Special honors: Georgia Sports Hall of Fame, 1973, National Baseball Hall of Fame, 1981."  
Around the time of his retirement, Mize and his wife returned to settle in Demorest at his family home located on Oak Street.  
Mize died in 1993, but the stories of his accomplishments live on. 
Today, a wide variety of memorabilia is housed for public viewing in the Johnny Mize Athletic Center on Piedmont's campus.