Leading Lion: Women's Cross Country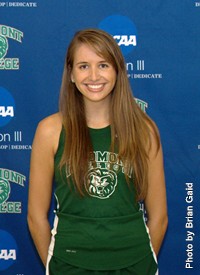 Molly Mulholland
Junior, early childhood education major
High School: Loganville High School
Hometown: Loganville, Ga.
Experience: This is my 7th season of cross country but 9th year of running competitively
What is your greatest personal achievement? 
My personal achievement in terms of running I would say maybe achieving my PR this season, otherwise I would say just building great relationships here that I know will last a lifetime.
What are your pregame rituals?
My only main things are what I eat/don't eat (basically nothing that would make me miserable) and I always have to have a long warm up, and (as any runner will tell you) lots of bathroom trips!
What are your plans after graduating Piedmont?
After graduating I plan to teach, still unsure as to where I want to go.
Last Season Mulholland finished third at the Piedmont College Fall Invitational with a time of 24:19.Set a personal record and placed 23rd at the Point University Invitational with a time of 22:18. USA South Academic All-Conference.