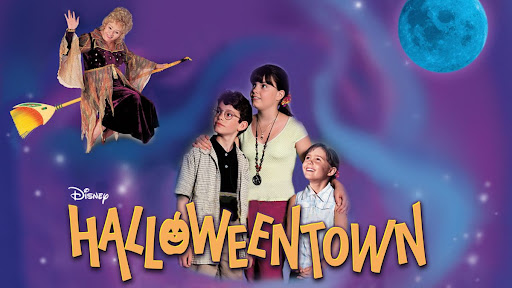 We all know the Halloween movie cult classics. There's The Shining, The Nightmare Before Christmas, or even just spooky movies like Ghost Busters or Saw. For those of us born in the early 2000s that grew up watching Disney Channel, our idea of seasonal movies might look a little bit different from everyone else's recommendations. Do you miss the cringe-worthy dialogue with low-budget effects and questionable fashion choices of made-for-TV movies? Or do you feel like you missed out on something you might not have gotten to experience as a kid? Then you might enjoy some of these underrated early 2000s spooky movies. 
Obviously, we need to talk about one of the most iconic movies to ever be shown on Disney Channel's Halloween event "Monstober." The original Halloweentown (1998) movie and its following sequels that built the "Monstober" brand. Halloweentown  follows a young girl, Marnie, as she discovers that her grandmother is a witch that lives in the mysterious "Halloweentown" where it is Halloween every day and is populated with ghosts, ghouls and monsters. Marnie learns how to use her own witch powers to help her grandmother protect Halloweentown from an evil sorcerer that wants to turn the people in the human world into monsters. This movie is extremely charming and will transport you back to a time when halloween was a magical night filled with candy and friendly monsters ready to take you on an adventure.
 The next criminally underrated movie on my list is the Twitches movies (yes, both Twitches One and Two). Twitches (2005) follows a pair of twin witches that were separated at birth and come together to discover their true powers to save their home realm of Coventry from the dark magic that threatens to consume it. Tia and Tamera Mowry (who you may know from their iconic '90s sitcom, "Sister, Sister") star as the twins who deal with the problems of being a high school girl and a witch at the same time. Twitches was always one of my favorite movies. The actors have amazing chemistry, the bad effects are hilarious, and there are heavy-handed allusions to Greek mythology mixed in with classic sitcom humor. 
The last movie that you should revisit (or visit for the first time) is My Babysitter's A Vampire (2010). Not to be confused with the "My Babysitter's a Vampire TV" show, the movie follows two friends who get stuck with a babysitter after endangering their younger sister. Not only does the babysitter turn out to be the girl that one of the brothers is crushing on, but she's also a vampire. Understandably, hijinks ensue. This movie also made frequent appearances on "Monstober." It's another classic that mixes spooky vampire themes with  cheesy acting and dialogue that gets better every time you watch it.
Hopefully, this inspired you to expand your horizons this Halloween, or at least reminded you of classic movies to revisit. Tell us your movie recommendations on our socials @piedmontroar!