SCUSA: The Opportunity of a Lifetime
As someone who prefers to always stay in my comfort zone, I never imagined I would be traveling to West Point in New York to attend SCUSA 73. The Student Conference on United States Affairs, or SCUSA for short, is a conference held by the United States Military Academy every year. This year, I had the honor of representing Piedmont University. 
There were 15 groups at SCUSA; I was a part of the 13th. Each group, comprised of student delegates from across the country as well as a few Cadets from West Point, was led by a CPOC, or Cadet Point of Contact. The point of SCUSA is to build connections between college-aged individuals and the United States Military for them to come up with a policy proposal to solve their specific group's issue. All groups were assigned a topic relating to SCUSA 73's central theme, American Foreign Policy in an Era of Polarized Politics and Revisionist Powers. My group was assigned the topic "Media and Public Opinion: Tools of Polarization and Revision?" As a mass communications major, I was ecstatic with my group's topic. 
Group 13 was made up of students representing various colleges and universities from around the country, New York University, University of Maine, Bard College and Georgetown University, just to name a few. We also had four amazing Cadets in our group to give their input and insight on our topic. We had two co-chairs as well, Mr. Justin Hendrix of NYU and Ms. Elmira Bayrasli from Bard College. These two advisors not only helped lead our roundtable discussions but provided an insane amount of intelligence I could only imagine having. Our group was not only diverse in where the delegates came from, but their majors as well. There were students majoring in international relations, geography and political science. Each student provided a unique perspective and opinion based on their major and life experience. 
Obviously, there is a lot to learn from an experience like this. With a variety of topics, ranging from Russian aggression in Ukraine to American democracy, a person could spend hours, if not days, researching and learning. In those four days I spent at West Point, I learned so much more than I could have ever imagined.  
While I did learn a lot from the presentations of policies themselves, I learned much more from listening to the unique perspectives of my group members. With a topic as important as ours, there was a lot to discuss. There was not a lot of discourse within our group, making it relatively easy to agree on a policy proposal. Though there was a lack of bold and spicy discussions, that does not mean there were no disagreements. Even if there was a slight disagreement on the simplest of things, listening to the differences in opinion from the group made me consider things I had never considered. 
From this experience, I also learned a lot about army life. Obviously, this experience barely scratched the service as to what it would be like to attend West Point. The student delegates had the opportunity to stay in the student barracks, eat at the mess hall, walk around the campus and attend the Firstie Club. 
Sleeping in the barracks was an experience in and of itself. There are various barracks, and do not let them fool you, they are mostly the dorms students are used to. The only difference is that, occasionally, a cadet will have to sleep on a cot. Each morning, cadets are woken up by the sounds of fellow cadets singing in the barracks. They will announce the breakfast menu as well as the dress code for the day. Hearing voices was not the typical alarm clock I am used to.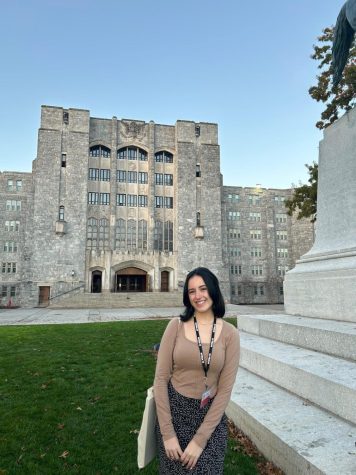 The Firstie Club is the bar on the campus of West Point. Exclusive to Firsties, or seniors, the Firstie Club provided the perfect atmosphere for the delegate mixer and socials we got to experience on Thursday and Friday nights. At this point, we had only seen the Cadets in uniform. Getting to see them in normal clothes, or civilian clothes, was almost like seeing your professor in the grocery store. After the seriousness of researching and writing a policy proposal, it was fun getting to unwind and hang out at the Firstie Club. 
This opportunity is the experience of a lifetime, and I am grateful for the mass communications department of Piedmont University for trusting me enough to represent them. Thank you specifically to Dr. Joe Dennis and Dr. Dale van Cantfort for providing me with this opportunity. Go Army, Beat Navy! 
My group's policy proposal, as well as the other 14 proposals, can be found on SCUSA's website, linked here.