Remembering Sandra Deal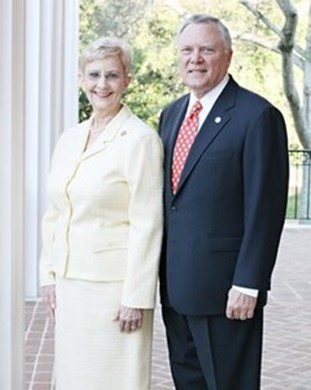 Former first lady of Georgia and Piedmont University Trustee, Sandra Deal, passed away Tuesday, Aug. 23, at 80 years old. Deal passed in her family home in Demorest. surrounded by loved ones after a battle with breast cancer that progressed into brain cancer.
"The public Sandra Deal matched the private Sandra Deal. She gave to others selflessly, unfailingly and unceasingly. We will miss her but count ourselves lucky that we were hers. She leaves a world that's better because she was here," said the Deal family in a statement.
The former First Lady was known for her advocacy of education and served as a teacher in Hall County for 15 years. During her tenure as First Lady, Deal set and accomplished a goal of visiting and reading to schools in each of Georgia's 159 counties, ultimately visiting more than 1,000 schools.
Piedmont University President, James Mellichamp remembers Deal saying, "She was an inspiration to countless Georgians and a strong advocate for Piedmont," in a message to faculty and staff of Piedmont.
Deal served as a member of Piedmont University's Board of Trustees for the past three years. THer daughter, Katie Deal Comeau, holds the position of Director of Alumni Engagement & Advancement. Earlier this May, Piedmont awarded Deal an honorary doctorate degree for the persistent devotion to education she displayed throughout her lifetime.
"Mrs. Deal has dedicated her life to serving others, particularly students. Her work both in the classroom and as an advocate for education is nothing short of inspiring. We are thrilled to have the chance to celebrate her contributions and to give her a forum for addressing our graduates," Mellichamp said in a statement as the time to award her degree approached.
Deal, a firm believer in being a lifelong learner, held two other degrees in education from Georgia College and State University. In 2017 the school founded the Sandra Dunagan Deal Center for Early Language and Literacy in her honor.
"There is a lingering sadness and emptiness here that is also peaceful and sacred. It is unfamiliar but also unmarked by despair. We sang her out of this life and held her hands through her last breath," Comeau said. "She went quickly and peacefully at 4:44 pm, just after all arrangements were finalized. She waited for us to get the work done, as was her nature."
A Celebration of Life service will be held at 2 p.m. this Saturday, Aug. 27, at the Lanier Technical College, Ramsey Conference Center in Gainesville, GA, officiated by Rev. Bill Coates. The public is welcome to attend, but the service will also be live streamed with details available at the Memorial Park Funeral Home of Gainesville.
A private service will be officiated by Rev. Bruce Morgan, who officiated the wedding of Governor and Mrs. Deal. In lieu of flowers, the family encourages donations to be made to The Deal Foundation, a foundation built on furthering the education of students in Georgia.