Nahomi Solorzano: A Journey Like No Other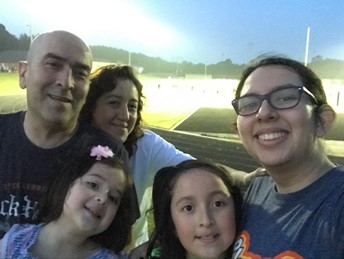 Everyone at Piedmont University has a unique story, and freshman Nahomi Solorzano is no exception. Currently majoring in psychology with a minor in social justice, and plans to double minor in mass communications, Solorzano's future was never certain. 
Leaving Mexico at six months old with her mother, the Solorzano family began their journey to the United States. The decision to cross the border came from Nahomi's father, who decided to move to the United States to make money for a few years. Following her husband, Nahomi's mother took her daughter to the United States. 
"We had to actually cross the big wall that everyone talks about, going from America to Mexico," said Solorzano. "We had met up with this American couple that had just recently lost their baby, and I guess they had sympathy towards my mom and that they wanted me to have a better life. They said to my mom, 'You get under the truck, and we're going to hold the baby, we'll pretend it's our baby.'" 
After moving around a bit, living in Texas, Utah, Washington and other states, Nahomi's father had chosen Northeast Georgia because there was less of a chance for immigration to go there. 
"My dad decided to try and keep it safe and go all the way to Georgia. I kind of just went in a circle because we had different homes until we finally have our home right now. From there on, I wasn't told that I was undocumented," said Solorzano. 
Growing up, people are supposed to have a support system. They can get support from their families, friends and, when you are in school, your teachers should be a part of that list. Unfortunately for some people, that is not the case. Middle school is when things hit a new low, though. Solorzano was told that she was going to be a high school dropout, a teen mother and other degrading things. 
"I was going through a lot of mental issues," said Solorzano. "The fact that my own teachers were telling me that kind of stuff, I started to have low self-esteem. Coming to be here in college and actually getting grades that are decent, it's getting that self-esteem back up again." 
College was never a guarantee for Solorzano. When she was in high school, Solorzano began to look for information on college because of two teachers who were encouraging her. Solorzano found Piedmont, and the Dia de la Familia event, which is a recruiting event hosted by Gabriel Gutierrez to inform Spanish-speaking families about college through bi-lingual informative sessions. Another aspect of Piedmont that gave the Solorzanos hope for Nahomi's college career is the close proximity to their home. 
"Dia de la Familia gave us a green light that Piedmont was an option, so I started applying to different colleges," said Solorzano. "We were leaning towards Piedmont because of how close it is. My parents don't have to worry about what would happen to me, especially if I have to get involved with the police for some reason and I'm in another state. Another reason is because my little sisters don't like it when I'm not here."
Family is incredibly important to Solorzano. Solorzano has family in Mexico, but because she is undocumented, she cannot visit them. Her parents cannot go back and see their family. Because her younger sisters were born in the United States, they are able to travel, but they want to wait until their older sister and parents are able to go with them. 
One of the most common responses when it comes to being undocumented is that the person should just "do it the right way" and become a citizen. What most people do not realize is how lengthy of a process this is. 
Because the United States Citizenship and Immigration Services department processes applications in the order they receive them, they tend to get backed up. Solorzano's mother applied around 1990-2000, and she still has not gotten a response. Solorzano was going to apply for DACA, or Deferred Action for Childhood Arrivals when she turned 15 in October until former President Trump took it away in September. 
"When my first semester in college started, they had reopened DACA," said Solorzano. "We were thinking, 'Thank whoever's up there, it's back on.' I started applying, I'm the right age, we have all the documents ready. Then on July 16, 2021, I even remember the day because I hate that day, they shut down everything again. Texas had passed a new law, saying that DACA is giving illegal permission to students." 
Currently, Solorzano is still waiting. Even though her case was technically accepted before July 16, she has not heard anything since. 
Even though this is a sensitive topic, it's everyday life for many people. Whether or not you're going through something like this, you've heard it on the news. You've seen it on Twitter. One way or another, your life has been touched by one of these stories. 
"For the people who are naive, in a way, don't focus so much on the news," said Solorzano. "We're not actually like how a lot of news people portray us. Get information from people that might understand it more." 
According to the USCIS, there were 590,070 active DACA cases as of June 2021. So many people have stories similar to Solorzano's. It is important to remember that, even though your culture is a large part of you, you are more than just your status, and Solorzano wants everyone to remember that. 
"For people who are going through situations similar to mine, don't let your status be an obstacle, let it be a motivation," said Solorzano. "Because I'm undocumented, I have to prove myself that I can do this because if I let them win, they get the last laugh. That's what helped me because I'm proud of where I'm from. I'm proud of being from Mexico."