The Spirit of Piedmont: A look back through the student athletics at Piedmont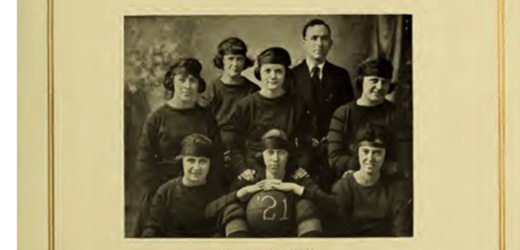 By FLETCHER DEAL
Staff Writer
In 1911, a field was finally created for athletics on campus, named Haldeman Field. This provided a boost to the way athletics were treated on the campus.
Now with the smaller, student-run athletic teams, Piedmont needed a mascot.
In the school year 1917-18 ,the name of the school's paper was changed from "The Padded Hammer" to "The Piedmont Owl." In turn, the Owl became the school's mascot. 
The name was probably chosen because the owl is a wise old bird, but after a few years of using it as a mascot, the Student's Association voted to change the name to the "Mountain Lions."
A report in the "Piedmont Owl" in 1921 read, "Anyone who has seen the Mountain Lions in action will know that it is certainly not a sleepy old night bird perched immovably upon a limb, but something of action and tremendous power…The Mountain Lion seems quite appropriate to surroundings and suggests power and is threatening at all times."
The name was eventually shortened to "Lions," and eventually the mascot changed altogether from a mountain lion to a beast from Africa, though it is not said why.
It may have been forgotten through the years that the lions were actually the mountain lions, which could have lead to the lion we see today.
The 20s brought an upsurge in sports. According to Mary C. Lane, author of "Centennial History of Piedmont College," and "History of Piedmont College: 1987-1990," this was due to the increased enrollment because of the end of WWI and the Roaring Twenties.
The 20s also saw the rise of football. "Piedmont's football team of 1920 was probably the best that ever fought under the banners of the Green and Gold.
"From the manner in which the team swept the gridiron for victory after victory, it justly won the name of the "Whirlwind" of the Green and Gold," read the review of the football season in the 1920 Yonahian. 
Lane said about the football team, "Even in defeat, Piedmont teams earned a reputation for their fighting spirit."
The 1920s also included the first season that the girls' basketball team played under boys' rules.
Basketball became increasingly popular on campus, and the number of games played rose from four in 1920 to 14 in 1928. 
Finally in 1929, Piedmont represented North Georgia in the national tournament of women's basketball.
They were defeated by the Kansas City Fairylands, but entered a consolation tournament where they defeated the Birmingham Southern team.
"Although it was defeated by the champions of Tennessee, the 1929 team made the best showing of any southeastern team," said Lane.