Building a Life at Piedmont University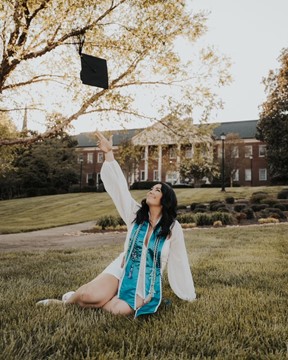 Erica Clark graduated from Piedmont University in May of 2021 with an undergraduate degree concentrating in accounting and finance. Clark is currently working on obtaining her Masters of Business Administration from Piedmont as well. 
Currently, Clark is interning with Carroll Daniel Construction Company as an accounting intern. She worked part-time for this company during her time as an undergraduate student and was asked to come back as a full-time intern while she is working to complete her Masters of Business Administration at Piedmont. 
It's important to have goals, no matter what point of life you are in. Clark, much like other people, has personal goals as well as professional goals.
"My personal goal is to be happy and to travel the world," said Clark. "My career goal is to obtain my certified public accounting certification as well as my general contractor's license in hopes of remaining in the construction industry." 
Going from college into the "real world" is something that most students dread. While Clark is still working for her MBA, she is a member of that "real world" and has dealt with some of the difficult aspects of graduating college.
"My piece of advice for new graduates and those entering the workforce is to embrace being uncomfortable," said Clark. "The 'real world' and job searches aren't always easy, but try to enjoy the process of starting your career because it is going to teach you so much about yourself. The only way to grow is to push yourself past your comfort zone." 
Piedmont offers many amazing resources to students, no matter what path they are on. Students have advisers who help them practically every day, they have tutors in the Student Success Center and they have access to career services. Lisa Mann, the Director of Career Services, is someone that Clark recommends students go visit if they need help on their journeys. 
In addition to those professional resources Piedmont has to offer, the university has an amazing faculty and staff that will go out of their way to make the students enjoy their time at Piedmont. That amazing faculty and staff, as well as the other things Piedmont has to offer, brings in an amazing student body. All of those things have helped Clark during her time at Piedmont. 
"Piedmont helped me achieve my goals and become who I am today through the intentional relationships and effort that was poured into me, in both my undergraduate and graduate degrees," said Clark. "Piedmont is where I found my family as well as myself. I will forever be grateful to Piedmont for the faculty, students, resources and genuine atmosphere that allowed this small mountain town to become my home over the last five years. As Brett Loftis would say, 'Where else would you rather be?'"