Chelsea Prince
Sophomore, biology major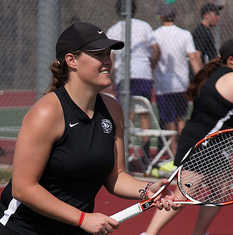 High School: Camden County High School
Position: 1 doubles, 2 singles
Hometown: Kingsland, Ga.
Experience: I have played tennis for 13 years
What are your superstitions and pregame rituals? 
I always regrip my racquet before we warm up. I always have to have my hat on and my ponytail braided. I can't play without either one.
Why did you choose PC? 
I knew I wanted to play tennis in college and Piedmont gave me the opportunity. I really liked Coach Wood and the campus.
What is your greatest personal achievement? 
My greatest achievement was making the All Freshman team and getting an award for #2 singles my freshman year.
What is the best part about being on the team? 
The best part of being a part of this team is the people I am on the team with. They become your family on and off the court during the season.
This season, Prince has won nine of her 14 doubles matches at the No. 2 position for Piedmont. Last season, she also held the No. 2 position and won nine of seventeen match ups.