Tennis Splits Win Against Vikings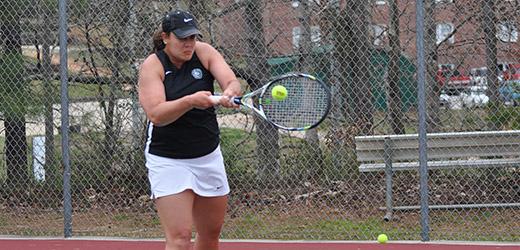 By ALEXANDRA SMITH
Staff Writer
The Piedmont Lions tennis team defeated the Berry College Vikings by a score of 8-1 on Wednesday, April 3, in Piedmont's final home game of the season.
The Lions were led by an 8-0 defeat at No. 1 doubles by Koen Gottenbos and Nick Hallberg. 
Berry bounced back with a n 8-3 win at No. 2 doubles to tie it up, but Mason Riza and Joel Silverberg battled for a tight victory at No. 3 doubles, winning 8-5. 
Except for a three set win at No. 4 singles, the Lions tennis team pulled straight set wins across the board over the Vikings to finish the day.

"It was my senior day and it was a really good win for both myself and the team," said Koen Gottenbos. 
"It also gives us confidence going into the end of the season and the conference tournament so hopefully we will all keep fighting hard and have fun at the same time."

With this win, Piedmont moves to 10-4 overall and remains 5-3 in the USA South. 
The team's next match is April 9 at 3 pm against Emmanuel College in Franklin Springs, GA.

The Lady Lions tennis team lost in a dual match against the Vikings 0-9.
 "This was the second time we played Berry in the last two weeks," said Chelsea Prince.
Berry isn't in the USA South Conferencem, so the loss had no effect on the Lady Lions season.
"Personally, I played 100 times better this past week that we played them than I had before. I had long rallies with my opponent and felt good about my match even though I lost," said Prince.

Katie Sailors and Ashley Fannon came up short at No. 2 doubles, 8-5. 
The Lady Lions were unsuccessful at No.'s 1 & 2 doubles against the Vikings as well and were defeated in singles.
The Lady Lions' record moves to 7-7 overall and they remain 7-2 in the USA South Athletic Conference. 
The Lady Lions faced USA South opponent Meredith College on April 6 an Raleigh, NC. Piedmont lost 0-9.
The Lady Lions play one more game before the USA South Conference Championship begins, facing Oglethorpe University on April 10 in Atlanta.