The Revival of a Franchise: Scream the "Re-quel"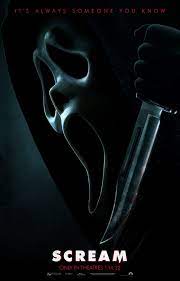 Bringing the necessary elements of nostalgia and suspense, "Scream" brings refreshing new takes on a cult classic. Ten years after "Scream 4," "Scream 5" revives the iconic horror franchise with high expectations. With the exception of a few minor plot elements, creating a fifth movie was the perfect addition. As a fan of the horror genre as a whole, the original "Scream," despite predictable plot points, is without a doubt a classic. "Scream 5," maintains these values with excitement and cheesy irony. In its opening weekend, "Scream," proved itself in the box office, topping at $30 million and surpassing the latest addition to the Marvel Spider-man franchise.
"Scream," as character Mindy Meeks, played by Jasmin Savoy Brown, would describe it, does not fall quite under the umbrella of a remake, nor a prequel, deeming it a "re-quel." The latest addition takes place 25 years after the original movie, back in the same place where everything began. Neve Campbell and Courtney Cox return to their iconic roles of Sydney Prescott and Gale Weathers, while up and coming stars Melissa Barrera and Jenna Ortega break ground in the horror scene. Melissa Barrera plays the main character, Sam Carpenter, who returns to town under the belief that the most recent attacks are directly connected to her own dark secret. In an effort to protect her younger sister Tara, played by Jenna Ortega, Sam sleuths to prevent further tragedy from occurring.
I was hesitant to see "Scream 5," expecting an over-produced, poor execution at replicating the original. I assume this was an expectation within the production as throughout the movie they take jabs at themselves joking that "Stab 5" (the franchise within the cinematic world), was the worst Stab movie. I held this hesitancy through the opening scenes and unknowingly became wrapped up in the film. The movie had me on the edge of my seat. The director did an amazing job with the plot progression, not overwhelming the viewers, but keeping the excitement flowing. At some points, the dialogue did make me cringe and the choice of the killer was questionable, but aside from these details, I have no other major critiques.
If you plan on seeing this movie, it is quintessential to the experience to have at least seen the original slasher. It is unclear whether or not there are plans to continue with a sixth movie, but in my opinion, to keep going would be overkill. "Scream 5," was the perfect final addition to the series. With a mixture of humor, nostalgia, and gore, the slasher "re-quel" is a must-see for all fans of classic horror.
This movie has a lot of gore, so if you have a weak stomach this may not be the right fit for you.