Lady Lions Begin New Journey The women's basketball team starts first season in USA South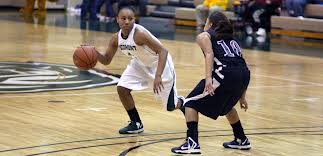 By JESSE SUTTON
Sports Editor
The Lady Lions basketball team began their season this past weekend on Nov. 16 against the Rose-Hulman Institute of Technology.
Piedmont started its first season in USA South after shifting divions from the Great South Athletic Conference.
In previous years, the Lady Lions were successful in GSAC play.
Last season, Piedmont had an overall record of 21 wins and five losses.
The Lions were 13-3 in conference play and won nine games at home with only one at home loss.
The Lady Lions conquered in the beginning of the 2011-2012 season, earning a perfect 12 wins and no losses.
Four of those wins were against GSAC members.
Piedmont traveled to the GSAC Athletic Conference Championship Tournament and lost to LaGrange College by only eight points at 71-79.
Additionally, Piedmont's Sada Wheeler snatched the GSAC Player of the Year Award.
She was the GSAC Player of the Week five times and finished first in the conference in rebounding, field goal percentage and blocks.
Wheeler graduated from Piedmont after last season.
The Lady Lions are led by head coach Jamie Purdy, who is entering her eighth season with the Piedmont women's basketball team.
Her record has included 127 wins for Piedmont and 63 losses for her seven years coaching.
During this time, she pushed her team to eight GSAC All-Freshmen selections, 41 All-Academic awards and 22 All-Conference honorees.
During the 2010-2011 season, Purdy led the Lions to a 20-9 overall record.
Additionally, the Lady Lions clinched the GSAC tournament title, defeating Huntingdon College, LaGrange College and Agnes Scott College.
The Lady Lions defeated Agnes Scott in the championship 69-44.
Piedmont traveled to the NCAA Division III National Tournament and played against Thomas More College. Piedmont fell 44-53.
Before this season began, USA South conducted the USA South Women's Basketball Coaches' Poll.
Ferrum College was selected by nine coaches to clinch the USA South Conference Title.
Ferrum placed second in USA South last season, falling to Greensboro College.
Piedmont placed 7th in the Coaches' Poll.
"We felt that we got an undeserving rank of 7th in the new conference," said sophomore Symone Ball.
"So not only do we want to show everyone that we're better than that, we want to shoot for the same goals that we did in the old conference and that's the conference title."
Ball admits the new conference brings tough competition and nervousness; however, she is excited and confident in her team's abilities.
"I feel that there's no reason we couldn't [clutch the title]," said Ball.
"I know we probably don't have the tallest or most athletic team in our league, but I feel that we have a group of girls who are very capable and who play very well together."
Piedmont returned two starters as well as eight letterwinners from last year.
"The team's very young this year, and having graduated three important seniors, we've had to change our strategy up a little bit," said senior Lauren Anderson.
"But we came out [against Rose-Hulman] with the intent to stand our ground and not be pushed around and it really paid off for our first win."
Piedmont's regular season play begins at home against Agnes Scott College on November 27 in Demorest.
The Lady Lions face their first USA South opponents in December.
Piedmont plays North Carolina Wesleyan College in Rocky Mount, Nc. on Dec. 1 and Christopher Newport University on Dec. 2 in Newport News, Va.