What the Mont?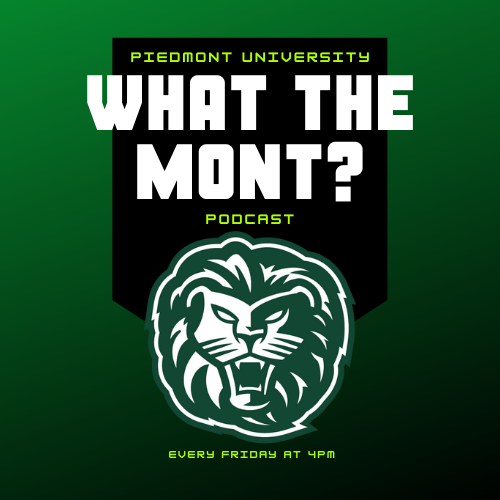 While mass communication students get an opportunity to learn more about the world of podcasting, the rest of Piedmont's student body gets a weekly podcast about their university.
"What the Mont?" is Piedmont University's first internal podcast.  It is almost entirely student-run and an extension of Piedmont's newspaper, The Roar.  The goal of the podcast is to provide students with a weekly update on news, sports  and anything Piedmont related.  
The show consists of two new hosts each week that present the week's news in a comfortable and conversational format.  The inaugural episode was hosted by junior mass communication and sports communication majors, Rowan Edmonds and Michael Thomason.  Future episodes will be hosted by a variety of students, ranging from soccer players and sports broadcasters to graphic design majors and news writers.  
Michael Thomason was extremely grateful to take part in Piedmont's first podcast. 
"Podcasting is something that has increased in popularity over the past few years, especially recently," said Thomason. "I was definitely thrilled to do the first school podcast in history.  I definitely learned a lot making it and most importantly, I enjoyed it."
"What the Mont?" was built from the ground up by Dr. Joe Dennis and his podcasting class.  This semester is the first time that Piedmont's mass communications department has offered this class. 
"With podcasts being such a thriving medium now, it only makes sense that our department offers a podcast class," said Dennis.
Dennis is the chair of the mass communications department, and he has advocated for numerous advancements in curriculum and equipment.  With the addition of the podcasting class Dennis quickly got to work on a brand new podcasting studio.  The studio has been equipped with the latest in podcasting and sound mixing technology.  It allows for full creative freedom for the hosts.  
"What the Mont?" will be available every Friday at 4 p.m.  Episodes are available on front page of the Piedmont Roar website, or on Apple Podcasts or Spotify.