2021 Piedmont Symposium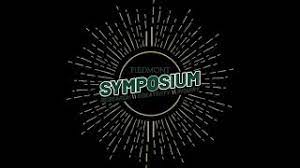 The 2021 Piedmont Symposium succeeded in demonstrating the student's abilities to do meaningful undergraduate research, and kicked off Piedmont's evolution from a college to a full-fledged university.
"I think Symposium went great," said QEP Director Julia Schmitz. "As with any event where you are trying to blend virtual technology with face to face events there will be some hiccups, but in the end the event ran smoothly and the students did great presenting their research."
More than 350 students from both the Athens and Demorest campuses presented their undergraduate research projects at Symposium. Students at the Demorest campus gave a combined 94 oral presentations and 58 research poster presentations. The smaller Athens campus wasn't too far behind with 33 oral presentations and 24 poster presentations
"We had 919 check-ins via QR codes throughout the different sessions," said Schmitz. "I haven't analyzed those to see how many unique check-ins but sessions I was able to attend were very well attended."
Students from different departments had the opportunity to both share research from their field of study, and observe presentations on topics they may never have been exposed to otherwise. Junior and first time Symposium presenter Catherine Gunn gave her presentation, "From Chants to Billie Eilish: A Look at Musical Aesthetic," to an audience in the chapel.
"I basically compared and contrasted the earliest form of documented music–chants–to Billie Eilish's music," said Gunn. "I finished this research last semester, and I spent a lot of time reading and watching interviews of Billie Eilish and her brother Finneas and thinking about the qualities and characteristics of chants and Billie Eilish on their own, how they're connected, and how I can make my points in an interesting, captivating, and funny way. I also pre-recorded my presentation, so some recording and editing work went into that."
Once all of the participating students completed and submitted their research, it was time to put into action a plan to allow them to present and observe in a safe way.
"There were definitely challenges with COVID," said Schmitz. "We had to rely heavily on our IT staff to make this happen, as well as faculty who have been teaching via zoom to help the students. The first year that we held this event, we were able to hold everything in Swanson, this year we had to hold events across campus which made it harder for students, faculty, and staff to move quickly from session to session."
Despite the challenges posed by the hybrid format, many faculty and staff members came prepared to make the day a success.
"There were approximately 50 faculty and staff who were sponsors for the projects," said Schmitz. "I had over 120 faculty and staff volunteer throughout the day to judge and help facilitate the sessions.
Anyone who missed their chance to present this year should keep an eye out on piedmont.edu/qep for the deadlines to submit research for the 2022 Symposium.