Garrett's Review: Mishima Express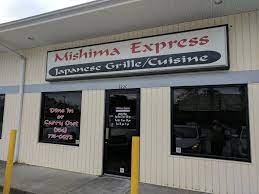 Fast food restaurants are a way of life in college; it is cheap food right there when you need it. There is no need to review any of the big fast-food chains because everyone has had it, and it is not discovering anything new. But, there is one place with fast food prices and drive-through speed worth talking about: Mishima Express.
Mishima Express is a hibachi restaurant offering large portions and small prices that is a must go to near Piedmont. When I say large portions, I mean large! Mishima will give you enough food for at least two meals, which adds even more to the value of this restaurant. All the meals, including the combos, are only $9 – $13 for an insane amount of food. These prices compete with fast-food restaurants, with most fast-food combos running from $6- $9 for only enough food for that one meal. The prices here are almost unbeatable, which is one reason it deserves so much spotlight.
Mishima delivers on the quantity, but they did not forget about the quality. It does not matter how cheap the food is; if the food does not taste good, no one will buy it. This is not a problem at Mishima. You are getting quality hibachi, now it is not at the level of a sit-down hibachi restaurant where they cook in front of you, but it is very good for what it is. The toppings you can add at various prices includes chicken, steak, shrimp, scallops, filet minion, and even cod. All are exactly what you would expect and are delicious, but they have unique ingredients like cod which add a fun experience to this restaurant. Another thing to add if you like yum yum/ shrimp sauce; this is the place for you because you get a giant bottle to drown your hibachi shrimp and rice.
The last important thing to talk about is how quickly your food gets to you. Only minutes after placing your order, food will be at your table. Sometimes you get your food faster than you would at a fast-food restaurant. This is important for people who are in a rush and need food now. Also, Mishima is popular for take-out, so many people grab their food and enjoy it at home.
Mishima is an excellent spot for quick, cheap and delicious food. The style of this restaurant fits so perfectly for college students or people with an on-the-go lifestyle, making its location right near Piedmont the perfect spot. Try Mishima Express your wallet and stomach will both thank you!