Machaela Smith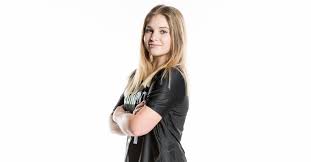 Machaela Smith committed to Piedmont to play lacrosse, but things quickly changed once practice started her freshman year in 2019-2020 school year. Smith ended up with a nerve problem in her right arm that prevented her from playing her freshman season. She was a goalie at the time, ready to be put in at any moment. But once the pain got too bad and her hand would not stop shaking, she had to hang up her cleats and stick for the season. Even in the classroom, Smith struggled to take notes certain days due to the shaking in her hand but still maintained good grades throughout it all. "When I first got injured, there was a big shift in my life where I could only do things with my left hand." Said Smith, "After a whole year of not using my right arm and four neurologists telling me they couldn't find anything wrong, I had to adapt and overcome." Smith became the biggest supporter on the sidelines giving the girls motivation on the field. Although she could not play, her season was still cut short due to Covid-19. The pandemic had the season cut short after six games and Smith was sent home along with everyone else.
During her time at home and the fall 2020 semester, Smith worked hard to be cleared by many doctors and our athletic trainers here to be able to suit up again with her team. She went to physical therapy during the fall semester to prove she is able to play through her set back and get back on the field. By the end of the fall semester, she was back in action in goal. "Our freshman goalie is amazing and after not playing for a whole year, my skills were less than acceptable. I was slower, weaker, and overall, not where I needed to be in goal." Said Smith, "I asked coach four days before our first game where she needed me, and we ultimately decided I could play field." She stepped up to help the Lady Lions have more numbers on the field. For the 2021 season, she has four goals and three assists totaling a number of seven points leading into the conference championship game that will be played this coming Saturday, May 1st, at noon. The women's lacrosse team won the regular season championship for the USA south Conference West division and beat Pfeiffer last Sunday, April 25th.
"I've never been more grateful for such a huge change," Said Smith.