Welcoming "Piedmont University"
It's official. You now attend Piedmont University.
"As we look back on the successes we've had over the past 123 years, this is what we've been working towards," said President James Mellichamp at a Tuesday afternoon ceremony for faculty and staff. "This is the result of all your hard work."
The transition from college to university has been in the works since last summer, when the Piedmont College Board of Trustees approved changing Piedmont College to Piedmont University in 2021. The big change comes from the drastic growth and various changes to campus over the years.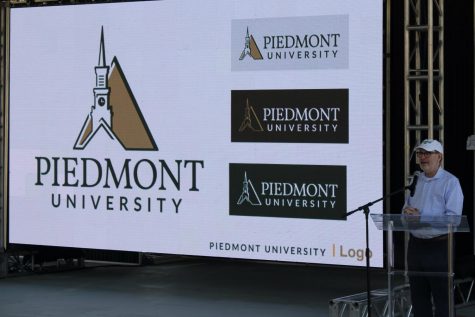 "Increasingly, we are viewed as a regional liberal arts university," said President James F. Mellichamp. "The name shift not only reflects who we are, but also where we are going."
In addition to the big-name change, the four academic schools, Harry W. Walker School of Business, R.H. Daniel School of Nursing & Health Sciences, School of Education, and School of Arts & Sciences, have become colleges. The names included are the College of Arts and Sciences, Walker College of Business, College of Education, and College of Nursing & Health Sciences. With that in mind, any landmark change is usually accompanied by an event to celebrate an accomplishment.
"Last fall, we made tentative plans to have a big event on campus inviting our entire campus community to celebrate, but those plans have been adjusted due to COVID," said associate vice president of marketing and communications, John Roberts. "Instead, we are hosting a series of small events for our faculty and staff and a student event on April 7, which we are calling our U-Day."
Even though the Piedmont community couldn't come together all at once to celebrate this moment, faculty, staff and students had the opportunity to celebrate during the small events. On Monday, Tuesday, and Wednesday, three separate "big reveal" events were held at the Arrendale Amphitheater in Demorest for faculty and staff, as well as an Athens event and tour of the new campus on Thursday. At this event, the new Piedmont logo was unveiled, prominently featuring the Chapel's steeple in green and white peeking over a delta-shaped mountain with "Piedmont University" written on the side in green and all caps.
"The steeple on the chapel is an iconic symbol in Habersham County," Mellichamp said. "The delta is symbolic of the mountains in which we're located and is also a symbol of the trajectory that Piedmont University is moving up."
Throughout the week, there were various events for students, including the "U-hunt" raffle prizes on "U-day." A "U-day" event was held Friday, April 9 at the Commons. The space was filled with decorations and music was played during this special day. Piedmont also celebrated with a variety of advertisements to bring attention to the big name-change.
"We are running a billboard campaign in Athens and Northeast Georgia to celebrate and promote this transformation," said Roberts. "We are also running some full-page newspaper ads, and we are conducting a social media campaign using #PiedmontU throughout the week of the announcement."
Although the pandemic is forcing current events to be limited to faculty, staff and students, Roberts said Piedmont is planning a massive public event next fall that will be open to alumni and Piedmont friends.
 "We are pushing our big 'IN PERSON' celebration to fall homecoming," said Roberts. "All of our students, alumni and our "University" community will be invited."