APRIL FOOLS: Policy Updated — Students not allowed to think about alcohol
In light of recent confusion over Piedmont College's alcohol policy, administration plans to implement a new policy in fall 2021: students cannot even think about alcohol.
"Students have struggled to understand the current policy," said Mark Jestel, director of residence life. "In order to clear up the misunderstanding, we are making the policy simpler."
Some students expressed frustration over rules implemented in the dorms this semester that banned "alcohol paraphernalia" like shot glasses and beer signs, as well as items that "promote alcohol," like T-shirts featuring beer companies.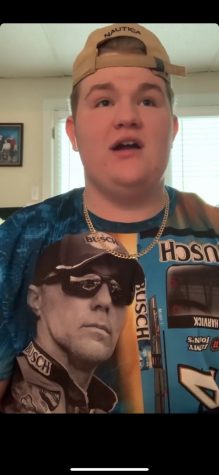 "I can't wear my Kevin Harvick NASCAR T-shirt because his car is sponsored by Busch and their logo is on the shirt," said junior sports communications major Brett Loftis. "And that's the only non-Braves shirt I own."P
Chris Barker, Loftis' resident assistant, suggested that Brett simply switch his NASCAR allegiance to solve the problem. 
"He should just become a fan of Ricky Stenhouse Jr.," Barker said. "His sponsor is Sunny D. Not only will that shirt be legal at Piedmont, but he will be helping other students know it's important to get your Vitamin C, because Sunny D has a full day's supply of Vitamin C — all with a yummy, orange tangy taste."
Next semester, not only will Loftis not be allowed to wear his Harvick shirt, but he won't even be allowed to think about it. Piedmont College leaders said this is all part of an effort to promote student health on campus as part of its new heart-healthy QEP initiative.
"The evidence is clear. Research has shown that alcohol is bad for you," said Julia Schmitz, biology professor and QEP director. "We all know QEP is HIP. You know what else is hip? Sobriety!"
Despite multiple attempts, The Roar could not get details about how faculty and staff will know that students are thinking about alcohol. A Piedmont-affiliated Q-Anon message board suggests that a brain sensor chip, along with 5G, will be embedded in the COVID-19 vaccine shots given on campus later this month.
"DON'T GET THE VACCINE!" stated an anonymous poster who simply goes by the initials "P." "Not only will Bill Gates know your every move with the 5G chip, but an alert will go off in President Mellichamp's office every time you think about alcohol."
Mass Communications Professor Joe Dennis said students should not believe such theories. "It's absurd to think that such a system will be implanted in the vaccine," he said, adding that if the conspiracy theory is true, it might be benefit to students. "About the 5G chip … I do know students are always complaining about WIFI on campus. Imagine how much better connections would be if everyone was a walking 5G chip!"
This story is part of The Roar's annual, comprehensive April Fools coverage of Piedmont College.