APRIL FOOLS: Actual lion to replace Piedmont mascot Leo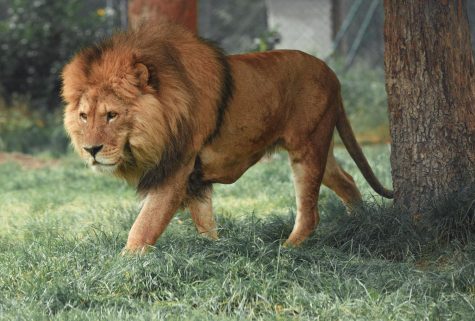 As Piedmont prepares to make a transition from College to University, the administration has announced that, as part of the rebranding campaign, the Leo the Lion mascot suit is going to be replaced by a real lion.
"We just love animals here on our Demorest campus," said President James F. Mellichamp. "There was some concern about the school rescuing a lion, but I assure everyone that it's perfectly legal. We are all very excited about making one of these wonderful beasts a member of the Piedmont family."
When asked about housing the large cat, Piedmont spokesperson John Roberts stated that the lion would have its own habitat built into the new Mystic Hall. However, until the construction is completed, he will be given his own suite in the bottom floor of GB.
"We understand that there's a little shortage of living space on campus right now," said Director of Residential Education Mark Jestel. "We may have to displace a few of the freshman boys, but don't worry! The Fitness Center and Outdoors Club have agreed to hold an extended Campus Campout event at the volleyball court for any students who have to give up their rooms."
Students have expressed mixed feelings about the change.
"I'm thrilled that we're getting rid of the old Leo costume," said junior Joe King. "It always creeped me out. Let's just be honest, having some mystery dude in an animal suit walking around does not make for a very safe learning environment. Does he even go to sporting events? No, seriously. Has anyone ever seen him at a game?"
Some potentially Carol Baskins-inspired rumors suggest that the Piedmont administration may plan to enforce a more extreme "Lion Check," using the predatory new mascot as a tool to discourage students from ignoring the COVID-19 guidelines. Regardless of whether these claims have any real substance, placing a 420-pound lion in the control of Piedmont College is expected to decrease vocalized dissent from students by upwards of 120 percent.
"I'm really worried that it's going to get loose in the stands during a game," said an anonymous student-athlete. "The CDC said that cats can catch and spread COVID. Lions can't wear masks–what if he spreads it to my two approved family members?"
Despite these concerns from students, Piedmont has expressed that they have no intention of revising the new mascot plan.
"Everything we do is for the good of the students," said Roberts. "I can assure you that no decisions made by Piedmont will result in students being eaten by the school mascot."
This story is part of The Roar's annual, comprehensive April Fools coverage of Piedmont College.