Leading Lion: Women's Lacrosse
Megan McDowell
Freshman, math major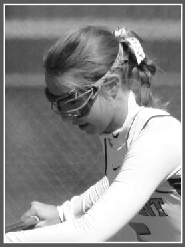 High School: Whitewater High School
Position: Midfield
Hometown: Fayetteville, Ga.
Experience: I played
lacrosse all through high school
What are your superstitions and pregame rituals? 
Before games, I always blast music. For every game, I also wear a bow in my hair. I've done it for two years now.
Why did you choose PC? 
I chose PC because I wanted to help build a lax program where I could make history. I also really liked how my professors know me and I am not just a number in a class.
On the team, what has been your greatest memory? 
The greatest memory was probably in our scrimmage. I scored the first goal, and it was the very first time the lady lions had stepped on the field together to face an adversary. Scoring was such a rush.
What is the best part about being on the team? 
The best part about being on the team is having so many girls you really care about you and share a passion.
In this season, McDowell has scored 32 goals on 62 shots and 48 shots on goal. She has had six free position goals with 15 attempts.