Beyond the Screen
COVID-19 has done more than just cause a rapid increase in Zoom stock prices–it has forced students into isolation and created new communication barriers for teachers to overcome.
"I have had to be more empathetic and offer more words of encouragement," said Dr. Angela Brown, Coordinator of Secondary Education program in Athens. "I have shared more ideas about coping with life events."
Studies by the National Institutes of Health have found "that students, as well as the general population, may be experiencing psychological effects from the outbreak of Covid-19, such as anxiety, fear, and worry." Distance learning has, on the whole, had many negative effects on students mental health. However, many teachers are trying to help solve this problem by being extra diligent about reaching out to students.
"Some rapport building happens naturally in person when people are able to be in the same space at the same time has to be strategically planned for and sought in the online environment," said Brown. "I find that there is an extra level of care that needs to happen because my students are stressed by life events and their worries about the pandemic."
Despite all of the struggles of the last year, it has become more important than ever to remember that there are human beings beyond the screens.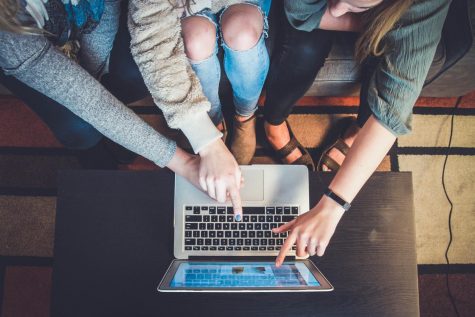 "Because I am making extra efforts to support and encourage, it means the world to me when a student takes the time to write a note of thanks," said Brown. "I have received about five of those since we came back to classes in January. One that just made me cry was from a student who was excelling in my class, and I had no clue he was dealing with so many things on his end. I was sending positive check-in notes to students taking the time to note several things I had seen them do over the last couple of weeks that were great for us as a class. The student shared with me that my note 'meant the world' to him. My note had encouraged him even when I didn't know he needed it."
A simple note can go a long way. In fact, research published in Psychological Research showed "writing the gratitude letters consistently put [research subjects] in more positive spirits — a finding in keeping with plenty of existing research on the mood-enhancing effects of gratitude."
"That student was doing so well in our discussions," said Brown. "However, the student felt he was struggling to do well because his perception was being colored by all the other competing life events that were affecting him. This reminded me that many more than I think could be struggling, and I just don't know it. It encouraged me to keep being a cheerleader, taking the
extra time to send positive notes and do check-ins with my online learners because you never know how one little act can mean so much to the person on the other side of the computer."
With every unfortunate thing that has been going on in the world, it has become even more important to appreciate and offer support to others–whether they are peers or teachers.
"Hang in there," said Brown. "You have made it through tough times in the past. This too shall pass. We must have hope and be encouraged that we are progressing towards a more normal tomorrow."