Garrett's Review: Sweet Breads 
Great date spots are few and far between, but when you find that special spot to share with your significant other, there is nothing left to do but let the sparks fly. Sweet Breads is the prime date spot around Piedmont; if you are celebrating a birthday or an anniversary, this is the place to go. Located just across the street from the Demorest Post Office, Sweet Breads is one of the only restaurants in walking distance for students.  Location is not the only great quality about this restaurant; the food and decor are what make Sweet Breads stand in a league of its own. 
Sweet Breads has a small but constantly changing menu of unique dishes that will blow your taste buds away. You will want to have your cameras ready for the rainbow food on your plate; every entree comes with a plethora of fruits and vegetables, making the food a feast for the eyes. And when you finally let your mouth get a turn, you will quickly learn this plate is more than just looks.  Pesto Crusted Grouper and Smoked Bleu Chicken will leave your mouth watering days after you leave. If you have a sweet tooth, make sure to leave room for their amazing desserts; from giant Brazilian Cocoa Cake to Blondies, there is something for everyone. 
Look up from your plate from time to time to appreciate the art and decor located all around the restaurant. A huge Buddha silhouette covers the whole wall and an Asian-styled dragon crawls across the entire ceiling. One cool thing that this restaurant does is spotlight local artists around the restaurant; every time you go, new art will be all around and it is available to buy.  The changing art fits with the changing menu, making each time you visit its own distinctive experience.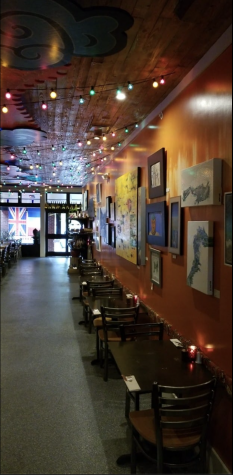 Something college students will notice is the menu prices; they can be scary on a college budget. All the entrees start at 25 dollars, but what many people do not know is that for 5 dollars more, they will up the portion size and split the meal. This makes Sweet Breads about 15-20 dollars per person, which is way more affordable. But Sweet Breads is not a restaurant that you visit all the time; it is a special occasion spot. 
There is nowhere in Habersham quite like Sweet Breads, the vibe of this restaurant is small town but fancy, and you feel fancy every time you go. It is worth making a reservation and dressing up to complete the whole experience. If you are looking to take your significant other out, there is no better place than here in Demorest. Sweet Breads brings big city fine dining to our small town; if you want a night in Demorest like no other, grab someone special and enjoy!