Leading Lion: Men's Tennis
Joel Silverberg
Junior, mass
Communications major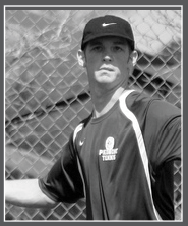 High School: Cape Coral High School
Hometown:  Knoxville, TN.
Experience: Six years
Why did you choose PC?
I chose Piedmont because of the Mass Communications department and the opportunity to play college tennis.
What are your plans after graduation?
I plan to pursue a career in sports broadcasting.
What is the best part of being a member of the team?
The whole team is a bunch of clowns, including our coach. We take what we do seriously, but we make it a lot of fun and have a lot to laugh about.
What is your greatest personal achievement and greatest memory?
My greatest memory is winning the conference championship against our rival Huntingdon when I was a Freshman.
What is your personal goal for this season?
Personal goal is to become more aggressive in doubles and have team finish in the top four in the conference.
So far this season, Silverberg has won seven of his ten singles matches. Last season, he was 12-5 overall, winning his last nine matches.