Piedmont College: The House That Ray Cleere Built
Some of the true "legends" to ever walk planet earth did not worry about what their legacy was.  They did not worry about how people would remember them, what building they could get named after them or even what kind of accolades they could win. They focused on doing their job and never stopped moving forward. This is truly what still makes Dr. Ray Cleere a legend at Piedmont College.
"Dr. Cleere came to Piedmont after a very distinguished career.  For somebody like him to land here at Piedmont in 1995, it was very impressive," said Piedmont College President James Mellichamp. "It was almost a miracle that he was interested in coming to Piedmont because he had such a successful career already before coming here."
Dr. Ray Cleere had quite a career before ever arriving at Piedmont College. He joined the Georgia Department of Education in 1962 after he had been working in the Atlanta Public School system.  In 1967, he started in higher education when he became the head of the first counselor education program at West Georgia State University. Cleere went on in 1970 to Valdosta State where he was the Dean of the School of Education, Vice President and the Dean of Faculties.  In 1982, Dr. Cleere became the Vice Chancellor of Academic Affairs for the University System of Georgia. Cleere made one more stop in Mississippi in 1987, where he was appointed as the first Commissioner of Higher Education for the State of Mississippi. After making all of these stops, Dr. Cleere became President Cleere at Piedmont College in 1995. All of these jobs helped President Cleere become well-rounded, and he brought this with him to Piedmont College.  
"He was a native Atlantan and a southerner, but he was involved in some prominent events in higher education which gave him a broader vision," said Rev. Ashley Cleere, President Ray Cleere's widow and former Piedmont Chaplain. "In terms of diversity, he knew that it was important to have a very diverse student body, diverse backgrounds and diverse perspectives because it helped individual development."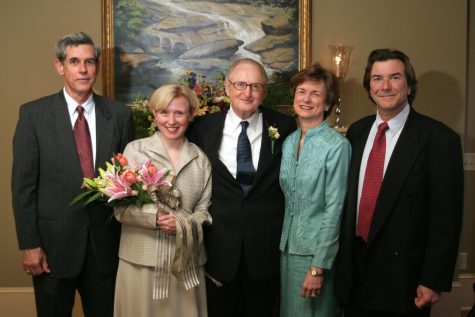 President Cleere not only wanted Piedmont to become more diverse, but he wanted to help grow Piedmont and he did. He was able to develop ideas and put these ideas into motion. During the 16 years that Dr. Cleere was President at Piedmont, he remodeled or built: Stewart Hall, Camp Hall, the dorms of Johnson, Swanson and Mayflower, the Arrendale Amphitheater, and the Swanson Center.
"I have never worked at an institution where the administration leading all the way up to the President has been so helpful, kind and supportive," said Chair of the Department of Theater, William Gabelhausen. "There's not a day that I walk into the Swanson Center that I am not thankful for President Cleere's efforts."
President Cleere knew how to get different sets of people behind the same ideas.  Whether it be donors, faculty and staff or fellow administration, Cleere always had a plan to get everyone on the same page so that he could put his plans into motion.  
"Ray could conceptualize an idea and identify key parties who he felt could buy into that concept and provide the necessary funding," said Professor of Mass Communications, Dale Van Cantfort.  "He did not construct a single building here, that I know of, that did not already have the vast majority of it paid for before the first brick was laid. All of the buildings he built has someone's name attached to it as well. He was able to rebuild, build new or expand physical facilities to take us, as a school, into the 21st century." 
There is not a monument currently at Piedmont College dedicated to President Cleere. However, there really does not really need to be one. Piedmont College is the monument to President Ray Cleere. 
"I think if you want to see a monument to Ray Cleere, look around the campus. Look at the students, the buildings and the academic programs that he created that are still here," said President Mellichamp. "That kind of evidence is a wonderful testament about what he has done here.  I'm just grateful to have helped the institution move forward."
As mentioned earlier, true legends do not worry about their legacy. They are focused on what is front of them to get completed next. Naturally as human beings, people want to gloat in their accomplishments. They want to dwell on what they have done in the past. However, President Ray Cleere never stopped moving forward, and that is why his legacy impacts every single person at Piedmont College to this day.
"One of the things that I admired about my husband was that he didn't focus on his legacy. He really just focused on getting his work done, moving forward and keep building," said Rev. Ashley Cleere. "His legacy is the continuation of growth at Piedmont College. To see how things continue to develop and evolve because of his efforts and the collaboration of others, is still amazing to see."
https://accesswdun.com/article/2018/1/630991/memorial-service-set-for-piedmont-college-president-emeritus-w-ray-cleere