Continuing a Legacy: Livia Skinner
A great man once said, "Legends never die." In many cases, the legacy that someone carries follows them long after they retire and leave this world; Maxie Skinner's legacy at Piedmont College is still very much alive. However, Livia Skinner plans to not only keep the Skinner name alive, but to continue the Skinner legacy on and off the court.  
"My grandfather is the reason why I came here," said junior guard Livia Skinner. "If it wasn't for him, I wouldn't even know about Piedmont."
Piedmont found Livia Skinner. After playing two years of basketball at the University of North Georgia, it was time for her to come back to her roots. She was recruited out of high school by Piedmont College, but made the decision to attend UNG instead. After transferring to Piedmont, Skinner has continued to bring more experience to the team.  
"I have brought over a lot of experience. It is two different competition levels," said Livia Skinner. "Regardless, I think I can just help carry the team and carry over what I learned from North Georgia."
Between playing at a Division II school for the past two seasons as well as the lasting legacy of her grandfather at Piedmont College, there would be a preconceived notion that Livia Skinner has a lot of pressure to perform this season; however, she doesn't feel the pressure.  
"I do not feel too much pressure," said Skinner. "Not a lot of my teammates know about him. Personally though, it is a good bit of pressure with my family and I just want to live up to his expectations."
Following in the footsteps of her grandfather, Maxie Skinner, Livia has big expectations to live up to. Maxie Skinner left a legacy at Piedmont College and in Habersham, Ga. that people never fail to forget. 
Maxie Skinner played basketball and baseball while at Piedmont College. He became the college's first ever NAIA All-American when he averaged 32.8 points per game in his senior season of 1956; he also scored more than 2,000 career points on the hardwood for the Lions, and this was well before the three point line was implemented into the game of basketball. Skinner was a standout baseball player on the diamond, too, and he was inducted into both the Piedmont College Athletics Hall of Fame in 1981 and the Northeast Georgia Sports Hall of Fame in 2004.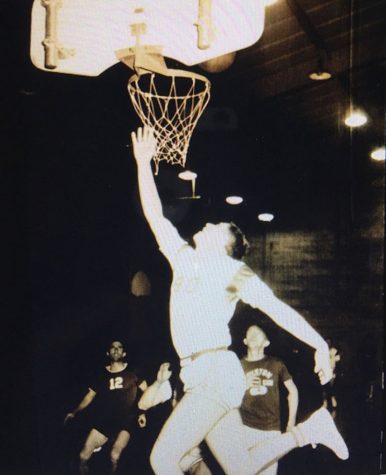 "Maxie's legacy is unbelievable. He is one of the forefathers of Piedmont athletics," said Piedmont College Athletic Director Jim Peeples. "Maxie should be in the Georgia Sports Hall of Fame, as he was a legendary high school and college basketball player."
Maxie Skinner was known and loved not only as a player, but as Coach Skinner at Piedmont College. After coaching at Toccoa High School and serving a two-year stint in the U.S. Army, Skinner returned to Banks County High School where he coached for 19 years. He then returned to Habersham to serve as the director over Habersham County Parks and Recreation Center from 1978-1984. Finally, Coach Skinner made his way back home, serving as the athletic director and men's basketball coach at Piedmont for nine years. During his tenure, he also coached women's basketball, softball and golf.  
"There was such a strong tie between Maxie and the basketball team, which was primarily his main focus," said Jim Peeples. "I was really proud we could honor Maxie and retire his legacy a few years ago. When we had our Maxie Skinner day, there were well over 100 of his former players and people here that day. The lives that he impacted were crystal clear that day when you saw the love for that guy."
Livia Skinner knows the legacy and the meaning that the last name "Skinner" holds at Piedmont College. Everytime anyone walks into the Mize Athletic Center, Maxie Skinner's jersey can be seen hanging up; his name is still mentioned and very well visible in the Piedmont record books, recognizing his position as a coach and player. However, Livia Skinner just wants people to see her grandfather through her and her on-court play.  
"I want people who knew my grandfather or know of my grandfather to see me and be reminded of how good of a basketball player he was," said Livia. "Even if they didn't know who he was, I just want to make another statement for the Skinner family name at Piedmont and keep the family name going."