Piedmont Students Go Greek for Third Year
"Recruitment is different for each organization," said Zachary Moore, Coordinator of Student Activities, Organizations, and Greek Life. "For Zeta, they have a formal recruitment process that takes place over three different rounds. Each round is on a different topic. For someone to go through formal Zeta recruitment they register online, and then we had a potential new member orientation for anyone who was eligible to go through the recruitment process."
The first round of recruitment for Zeta Tau Alpha, the sorority at Piedmont, began on Thursday Aug. 29 and served as a kind of meet-and-greet for potential and existing ZTA members. Philanthropy night took place on Friday, followed by a preference round on Saturday–both of which were invitation only events. Potential members were invited to attend based on whether they seemed to be a good fit for the organization after the first round.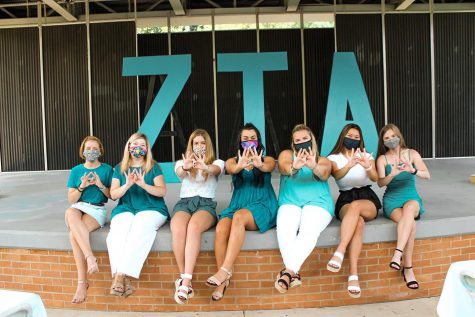 "Typically they check your GPA to make sure you meet the GPA requirements," said Moore. "They'll look at how you fit in with the values of the organizations, and how you fit in with the chapter members, to see if you're what they'd look for in someone in membership. But for the first night it's typically, 'does it seem like this person holds the same values that we do as an organization, and do you meet our GPA requirement." 
After the preference round, the leaders of the organization make selections for extending bids, which are the official invitations to join ZTA. Bid day was held on Sunday to celebrate new recruits who have received and accepted their bids.
"For the fraternity, their's is similar to the formal recruitment process, but is more open," said Moore. "Most fraternities do what's called a 365 recruitment process. Which means that they recruit 365 days of the year. While they do have their recruitment weeks this week and next, they will continue to do recruitment events throughout the semester and throughout the Spring."
For both Zeta Tau Alpha and Alpha Sigma Phi there is no cost to go through the recruitment process. Potential members only had to register online, attend events and get to know the existing members.
"For ISC organizations–which is our fraternity counsel–which Alpha sig is a member of, typically their chartering process spans two and a half to five years," said Moore. "So they are still what is called a provisional chapter. Anybody that joins Alpha Sig before they do their chartering will be a founding father of the organization. Which is a very rare experience and opportunity."
Each organization has its own set of dues, which cover chapter operations and national fees such as the insurance fee and educational programming fee. However, the money each inductee pays also goes towards funding major events such as formals, brotherhood and sisterhood events that help bring Piedmont's campus to life.
"I would love for anybody that even has a small inkling of interest to try Greek life," said Moore. "Go through the recruitment process. There's no cost to go through the recruitment process and the only thing that's going to happen is you're going to spend some time getting to know the people and decide that it might not be for you. I wholeheartedly believe that greek life isn't for everyone. But the experiences and the benefits that you get for membership far outweigh the cost of membership."