Lions Adapt to an Online Normal: How Piedmont Students Cope with Coronavirus
Written by Bryce Griggs (Staff Photographer) & Christian Castro (Contributing Writer)
As COVID-19 forces Piedmont College to close out the spring semester with all classes moved online, some students are getting their first taste of online learning … and they don't like it.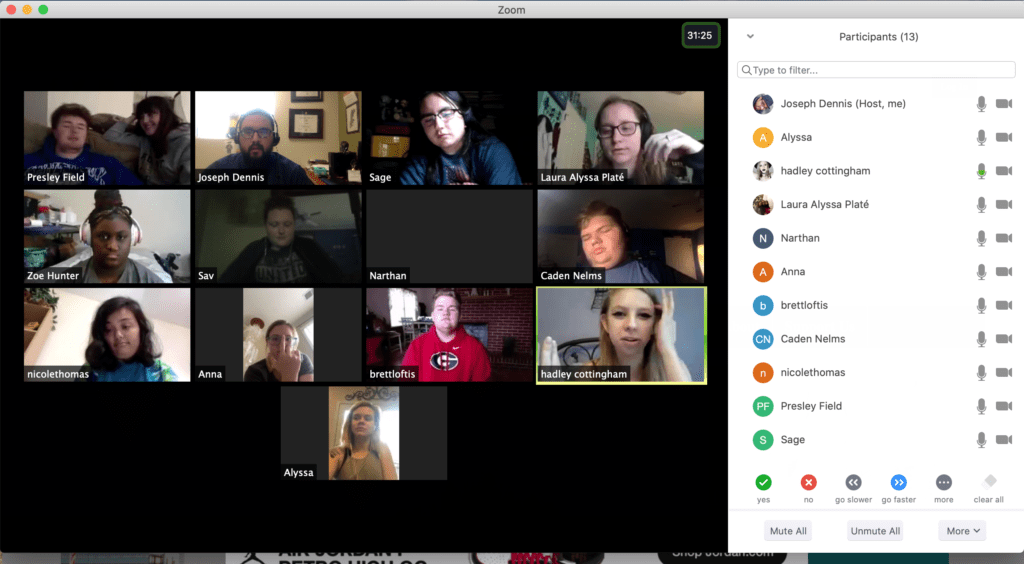 "Living in a rural area, online classes have been a struggle but not impossible," said Marcus Shockley, a junior music performance major. "There are occasionally some latency issues with video calling that I would experience, but nothing terrible."
Even those who have decent Wi-Fi are faced with the new reality of competing with siblings attending school online and parents working online from home. "Adjusting to everyone's schedule and sharing Wi-Fi has been hard, especially with online learning," said Marion Mealor, senior mass communications and theatre arts major.
Online learning has proven to be a challenge for some majors, who are now facing the prospect of doing everything remotely. As a music major, Shockley was looking forward to performing in the college's new music conservatory. Now for her music classes, she's having to perform them from her home, broadcasting her concert online. "That has been challenging."
Although not ideal, at least music students can still showcase their skills online. Other "hands-on" majors — like those for whom the use of a laboratory is critical — have essentially had their classes prematurely concluded. One student who has dealt with this is Sean Ogle, a senior chemistry major.
"All my labs have been canceled, and I've been given the final grades for those classes even though we had plenty of material to cover in the last two months of the semester," said Sean Ogle, a senior chemistry major. "It's frustrating to know that I won't be allowed to work on lab assignments anymore because those hands-on experiences can help me with my major."
Nursing majors are also missing out on valuable hands-on learning. Senior nursing major Monica Andrey expressed disappointment that she can no longer go to the hospital to do her clinicals. But even taking tests online has proven to be a challenge. "I am used to testing in a certain environment," she said. "It's harder when I have to test in my bedroom, but now that I have been doing this for a few weeks now, I think it is going good."
Most of all, students are missing the face-to-face interactions with their professors.
Piedmont prides itself on being a college where students are a face and not a number, touting the ability for students to freely interact with faculty and staff. Gavin Azar, a sophomore graphic design art major, has struggled with the transition.
"With art assignments, if one thing is done wrong then you've got to start all over again," Azar said. "It was nice to have meetings with my professors in their office to talk about assignments to understand them further and even to have a quick chat."
Azar said his professors are still available via phone, but it feels different. "Ever since this transition, I feel like I'm bugging my teacher because I always have all the questions to make sure an assignment is done right and specifically with my programming homework. Now it just feels weird to blow up their phone or email them constantly."
In addition to missing faculty and staff, many students are missing the physical campus, which for seniors, has been their true home the past four years.
"I used to wake up early and head to Swanson and not come back to my dorm until late at night after rehearsal," she said. "It took a long time to adjust, and I still don't think I am used to it."
The lack of face-to-face interaction with professors has provided another challenge to students: staying disciplined and motivated.
"It's changed the way I do school where I do feel more disconnected from the teachers and the classroom, so I do have to rely on myself more to get assignments done and make sure I'm aware of due dates," said senior mass communications major Alyssa Gibson.
The challenge to slack off and sleep in is very real in an online environment. For Andrey, sticking to a schedule has helped her excel.
"How I stay motivated is taking some time to relax when I need it," she said. "Staying on a schedule and waking up at 9 a.m. everyday has helped."
For seniors, this can be especially challenging, seeing their final semester at Piedmont cruelly taken away by coronavirus. Mealor was looking forward to participating in her final theatrical show, and looking forward to a now-delayed commencement in May.
"I honestly owe it to the people in my life—my friends, family and professors," she said. "They've been patient on my bad days and encouraged me on my good days to keep working hard and finish the race."
For those non-seniors, they are adapting to online learning but do not want this to be the new normal. "All things considered, online school could be worse," Shockley said, "but I do wish I could be in a classroom right about now."