A Winning Culture Leads to a Winning Foundation: Piedmont Baseball Preview 2020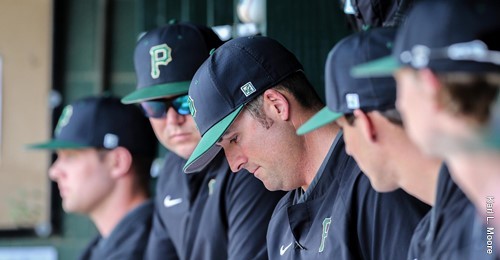 Piedmont Baseball has been a mainstay as a top team in Division III and in the USA South over recent seasons. Looking into the upcoming 2020 season, the Lions will try to not only continue their winning ways, but have fun while doing it.

Since he took over in 2017, coach Justin Scali has helped continue a great lineage of success at Piedmont College, following former coach and now Athletic Director Jim Peeples. Coach Scali is coming off of a previous season record of 29-10, a number one seed rank in the USA South conference tournament and a rank of as high as tenth in the national polls. Scali was also named the 2019 USA South Coach of the Year. However, with the anticipation of the 2020 season, he is not worried about the past, but excited for the future.
"This is just such an exciting time. We are so close to opening day, so we need to focus on being ready to play. We are trying to prepare for what will be a tough schedule here in 2020," Scali said.
Coach Scali is particularly ready to see what this team will do, as he is sure that they will succeed, just as those before them have.
"We have a saying in our program that we do not rebuild, we reload. We love those guys who have graduated in the past, but this team's goal is to play at a high level and to compete to win a conference championship," Scali said.
Coach Justin Scali has established a specific culture at Piedmont that revolves around winning baseball games; Scali knows the way to \ establish a winning culture, and to continue it season after season.
"It starts off with the confidence that you believe you can win," Scali said. "How you create that is in your preparation. You have to outwork your opponents and having the expectation to win is half the battle."
Preparation is key in winning, but having the right personnel on the diamond is also a crucial part in establishing a winning tradition. Every player on the team is important, but Scali identified five players who he expects to lead the charge this season.
"We are going to look towards guys in our senior class like Sam Carpenter, Zach Swindell, Noah Heatherly, Evan Meade and Jonathan Burkett," Scali said. "Those guys have had good playing experience for us and we expect them to continue being good leaders; we also rely on our upperclassmen to instill the culture."
This culture will continue into the 2020 season for the Piedmont Lions.
PC will open the season with the Piedmont College Early Spring Tournament, a three-day tournament, with four schools total competing at Loudermilk Field. Opening weekend for Piedmont baseball will begin on Friday, Feb. 7, hosting Birmingham-Southern College at 7 p.m. The Lions will then face Virginia Wesleyan on Saturday, Feb. 8, at 5 p.m., before Piedmont wraps up the weekend against Emory University on Sunday, Feb. 9, at 4 p.m.