Looking Forward: How a senior used his past to shape his present
By ALEXANDRA GREEN
Contributing Writer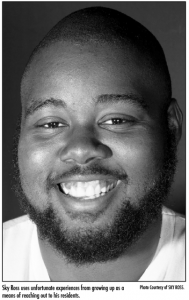 It is very common for a person to go through a time in their life when they feel like their existence is unimportant and there is nothing to fight for. Sky Ross, a senior theatre major and Resident Assistant at Piedmont, felt this same way not too many years ago.
After sitting down with his family and having a life-altering conversation with them, Ross never felt more alone. 
"I never would have thought doing that would lead me to not having a home or parents who understood what unconditional love was. I lost what I most truly loved," said Ross.
Growing up in the ghettos of Trenton, N.J., Ross had no one to turn to as he was
bullied in school. 
"I didn't have friends. I was always an outcast because of my kindness," he said. "As a matter of fact, I had my own disease named after me. Kids can be so cruel sometimes."
As a troubled teen, Ross began to look for an outlet, so he began acting. It became his passion and a way to express everything that had been bottled up for so many years. Eventually, Ross wants to teach while reaching out to troubled or bullied students.
Due to his trials and obstacles over the years, Ross takes the time to care for each of his peers and residents to ensure they never have to feel worthless or alone.
"Sky is always someone I can go and talk to if I'm having problems with school or anything, really," said freshman Purcell resident Stanton Collins. Like most students, Collins mentioned he will miss seeing Ross's shining face and hearing him sing throughout the halls of Purcell.
Graduation, which is less than two months away, is a bittersweet event for Ross. He isn't stressing about what to do afterwards, however. 
"I will go wherever God takes me," said Ross.
As an RA, Ross tries to encourage everyone he comes in contact with. He takes his job past just the title and creates a connection with the men on his hall. With this bond, he feels that they will be more comfortable coming to him with their problems.
Turning over a new leaf worked for Ross, as he went through high school and college with many friends. After even just one conversation with the warm-hearted fellow, students walk away feeling like they just gained a new friend.
"He has a very social personality that is easy to talk to," said sophomore Sabrina Page, who often goes to Ross for advice, along with many other peers.
When he moved to Georgia for high school, Ross didn't know what to expect. In Jersey, he had to worry about things like getting enough to eat or wearing the wrong color shirt and getting attacked by gangs. He broke through his loner persona and self-isolating tendencies and became determined to turn things around.
"Never take your pain out on people because you refuse to be like everyone else. That's what I told myself everyday," said Ross.
"Love and kindness should be grasped every moment. Never live life safe because what might be there today might not be there tomorrow."