Piedmont Globtrotters Katie Sailors and Lauren Hodgens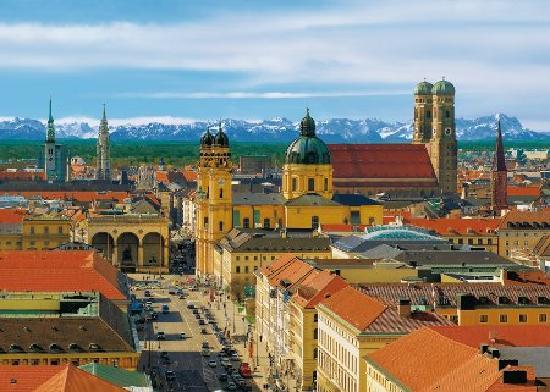 By ERIN GATHERCOAL
Features Editor
While Piedmont's Maymester and Travel Study program is available for all majors, there are certain trips are that aimed toward specific majors. One of these trips is to Munich and Prague, ideally for business majors at Piedmont.
Katie Sailors, a junior marketing major, and Lauren Hodges, a senior marketing major, went on this trip last spring.
Q: What made you choose the Maymester trip to Munich and Prague?
Katie Sailors: I chose to go to Prague and Munich because I am a business major. The two classes you get credit for went straight to my major.
Lauren Hodges: I spoke with Professor Kreiner and Dr. Carlson and other students who had been previous years, and they had nothing but good things to say about it.
I also had heard Prague was one of the most beautiful places.
Q: What was the registration process for the trip?
KS: The process was easy. You sign up with the professor, talk to financial aid and pay the tuition. The professors do the rest. They book your flight and train rides, and make your schedule.
LH: I had the required amount of hours already so it was very easy to apply.
Q:What were you expecting to get out of your Maymester trip?
LH: A trip that I would never forget and a look at the way different organizations and businesses operate.
KS: I honestly had no idea what to expect. Other than a cruise, I had never been out of the country. I was able to expand my horizons and see the world with a new perspective.
Q: How did you prepare for your trip?
KS: We were required to go to three Saturday classes in the spring semester before we left in May and write a paper.
To prepare, I had to call my credit card company so they knew I would be out of the country, and I had to get euros and crowns. The hardest part for me to prepare was deciding what to pack.
Q: What was your favorite event/memory from the trip?
LH: I would have to say one of the days where we had almost a whole day of free time and nothing planned with the group. Katie Sailors and I went out on our own site seeing and shopping and ate at a local cafe in Prague. Prague was by far my favorite.
KS: One night, a group of us walked around Prague and ate dinner at this little Italian restraunt with tables in the street. The sun was setting, and people were walking in the street. It was such a special atmosphere that you never get in the United States.
Q: Describe some of the highlights of trip to Munich and Prague.
LH: I enjoyed going to the different car manufacturing plants (BMW and Skoda) because they both are very successful but operate completely differently.
I also enjoyed a boat tour we did on the Charles River.
KS: There were so many. Just being able to see the beautiful city of Prague, ride in a train for the first time and make new friends were a few of the highlights.
Q: While on the trip, did you have any enlightening
moments? Did anything you see/heard/did inspire you?
LH: I think I learned to be more open minded. It was something out of my comfort zone and good for me to see different cultures other than ours in the United States. It opened my eyes to a lot.
Q: How much academic work was there for the trip (papers, reading, projects, etc)?
KS: We had to do a twelve page paper before we left and two papers when we got back. They weren't too bad when you think about getting two class credits for them. It was worth it.
LH: Before the trip we had a research paper, then after the trip I had a reflection paper. I also was in the scrapbook group in charge of putting pictures in a book after the trip. It wasn't a lot of work at all.
Q: Do you plan to go on another Maymester this year? If yes, where?
KS: I would love to, but no, I am not planning on going again.
LH: I am a senior this year so that was my last opportunity to go. I do hope to travel overseas again soon though.
Q: What would you say to anyone who is hesitant about going on a Maymester trip?
KS: I say go. Take the risk and go. The experience, classes and memories are worth the money. Where else do you get two classes to travel the world? I know for me, this trip made me catch the traveling bug.Now I want to go everywhere.
LH: If you don't go, you will regret it. I honestly was on the fence about going at first but am so thankful I went. It is an amazing opportunity and the chance of a lifetime. If you are able to go you definitely should. Not everyone has the chance to.
For more information about Piedmont's travel study program, go to www.piedmont.edu/pc/index.php/travel-study-home or visit Dr. Stephanie Almagno in Daniel 201.