Piedmont Baseball Goes 1-2 in Arizona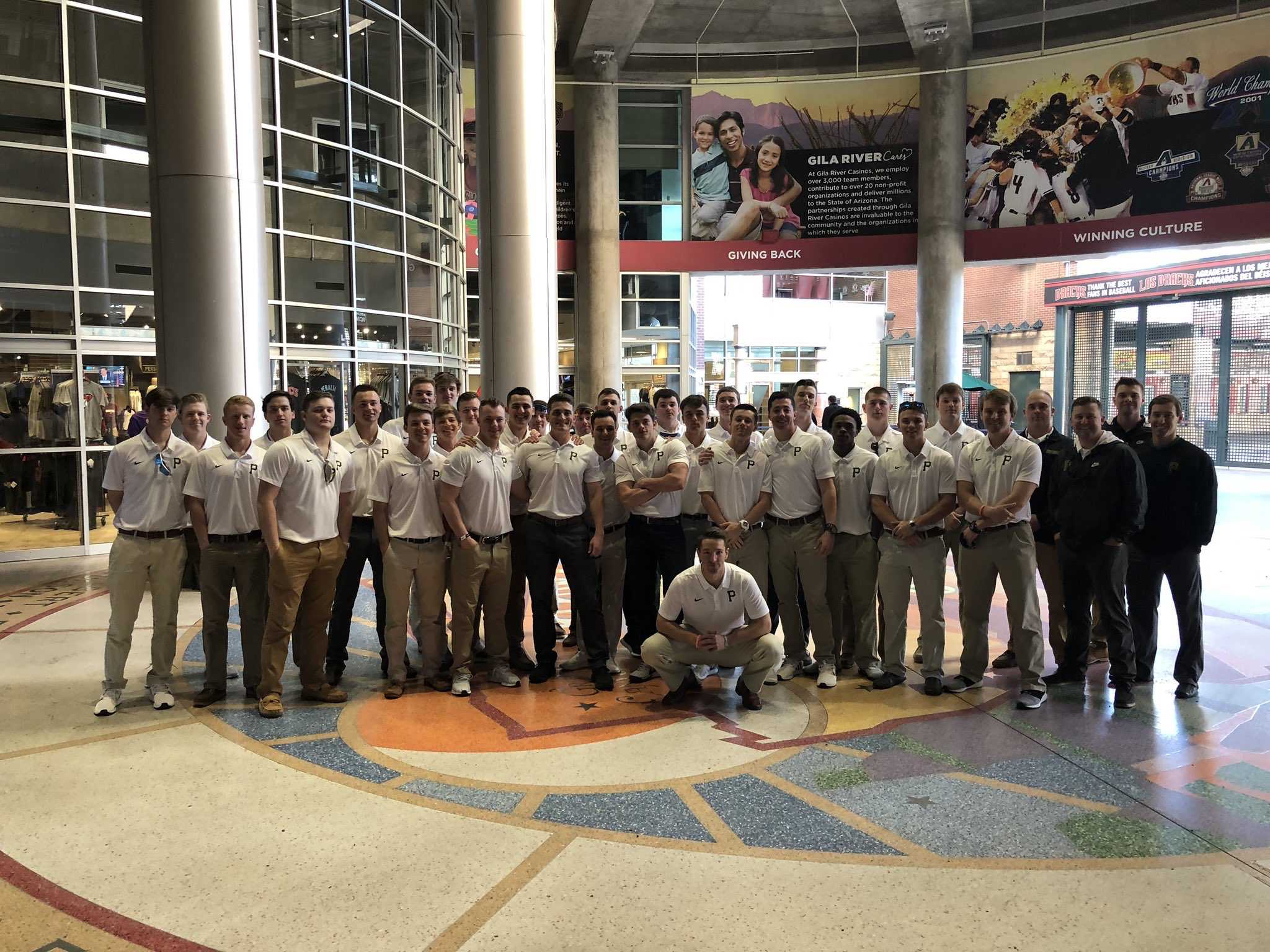 Piedmont Baseball traveled to Tucson, Arizona for new opportunities and new challenges. The Lions faced three West Coast teams in the Cactus Classic—Pacific University, California Lutheran College, and Chapman University—all while having a little bit of fun on the side, too.
The Lions' adventures started at a Thursday morning practice at South Mountain Community College, leading up to a surprise visit of Chase Field, home of the Arizona Diamondbacks. A look behind the scenes into the MLB team's stadium sparked passion and fueled energy for the Lion's approaching game.
"Everyone seemed excited to be playing at a new field in a new state," said Will Janofsky, a sophomore pitcher.
To begin action at the Cactus Classic, Piedmont College picked up a 6-5 win against Pacific University.
"Our first game really got us fired up and confident," Janofsky said. "It was a good game."
Following their successful win while visiting the west coast, the Lions headed to In-N-Out Burger for a victory lunch. Andrew Burden, senior infielder, recommended that In-N-Out is a "must try" if you've never experienced it before. After their visit to the iconic burger joint, Piedmont prepared for the next two games on their schedule.
California Lutheran College was the upcoming opponent on the Lions' agenda. Saturday afternoon, Piedmont battled head to head, with the Kingsmen handing the Lions a heartbreaking 4-3 loss. It took extra innings to decide the contest, but a hit in the 11th inning, combined with a stolen base, allowed a single to score the game winner for California Lutheran.
It was a quick turnaround, with yet another game Sunday morning, facing Chapman University. A late rally by the Chapman Panthers led them to victory, as the Piedmont College baseball team dropped a tough 8-6 game to conclude the Cactus Classic in Arizona. The Lions led until the eighth inning when the Panthers scored five runs to claim the lead. 
"All three teams we faced were quality opponents. If you were to ask anyone on the team, they'd tell you that we should have won all three, but that's just baseball," Burden said. "It definitely tested us as a team and showed us that we can compete with anyone when we play our game."
Although the Piedmont Lions traveled back home to Georgia with only a single win, the competition they faced humbled them.
"Winning together is great, but sometimes experiencing tough losses really brings everyone together and pushes us to be even better," Burden said. "Every single guy on our team really gets along, but I can say that in my four years at Piedmont, I've never been a part of a closer team with this kind of bond." 
The Piedmont Lions baseball team has many ambitions for this season, and this is only the beginning.
"We all have the same goal in mind, and we're going to put in the work to achieve that goal. It was a trip that we'll never forget." Burden said.
Piedmont is back home now and have won their first four games at Loudermilk Field, with wins over Berry, Oglethorpe, Whitworth and George Fox. The Lions are a perfect 4-0 at the Milk Jug to start the season, and will look to keep the magic alive this weekend.
The Lions are clicking right now and will start USA South play on Friday. Piedmont will host Brevard this weekend in a three-game series starting on Friday. The Lions will host the Tornadoes Friday at 7 p.m., Saturday at 3 p.m. and Sunday at 2 p.m.